Local community reap benefits of uni runners
Release Date 17 June 2011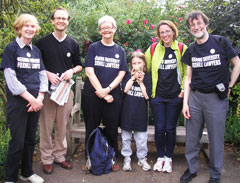 A team from the University of Reading's School of Law has raised valuable funds for a local law clinic by taking part in a charity walk in London
By participating in the London Legal Walk, the team of six have supported the valuable work of the Free Legal Advice Clinic run by CommuniCare in Cemetery Junction, Reading. The clinic operates once a month and offers free professional legal advice to the local community.
The Clinic is a joint initiative between the University of Reading's School of Law (12 law students assist in giving advice there), top legal firm Shoosmiths, East Reading advice centre CommuniCare and LawWorks, a charity which supports the delivery of voluntary legal services by lawyers.
The Walk is organised by the London Legal Support Trust (LLST), a charity that helps to raise funds for voluntary legal agencies and advice centres. The Reading team, which consisted of Patricia Leopold, Stuart Lakin, Rosemary Auchmuty, Anna Horton, Rachel Horton and Nick Roberts, raised £525. Half of this will go to the Clinic with the rest going directly to LLST.
The Free Legal Advice Clinic is held on the first Thursday of the month, from 5-7pm. Access to the free service is by appointment, call CommuniCare on 0118 926 3941 or email at advice@communicare.org.uk, putting Law Clinic in the subject line.