University of Reading improves lives for African dairy farmers
Release Date 22 June 2011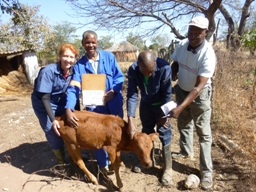 Protecting African dairy farmers from contracting a debilitating disease from their cattle is at the heart of a unique project by researchers at the University of Reading.
The Veterinary Epidemiology and Economics Research Unit (VEERU) at Reading is working with local nurses and veterinary livestock technicians in Zimbabwe to educate farmers and their families about the dangers of brucellosis.
Brucellosis decreases cattle productivity, but, more importantly, can infect humans primarily through drinking unpasterurised milk, or assisting at calvings. Although not fatal, the disease in people causes severe fever, like malaria, with malaise, fatigue, depression, and chronic arthritis. In cattle the abortion rate increases, but the cows remain infectious for life.
Local livestock handlers are often unaware of the dangers for both cows and humans and brucellosis is frequently misdiagnosed and mistreated. The project, funded by the Wellcome Trust's Livestock for Life initiative, works with dairy co-operatives teaching them how to prevent and control the disease.
Zimbabwe is different to some other African countries in that brucellosis is newly-introduced into the small-scale farming areas and there is only limited traditional knowledge about prevention of this disease. In Kenya, where brucellosis has been present for a long time, people routinely boil their tea with milk, in effect pasteurising it and making it safe.
The project is particularly successful because of its use of the 'One Health' concept that especially applies to diseases transmissible from animals to humans. This works by collaborating with different people to bring about changes in behaviour.
Dr Pamela Woods, a veterinary epidemiologist with VEERU, is leading the programme in Matabeleland South province in Zimbabwe. She said: "What makes this project unique is the linking of veterinary, dairy, nursing staff and community leaders during the training on testing, conducting health promotion programmes and development of community-level action plans.
"Education is so important. If farmers understand the dangers, they are much more likely to pay for calf vaccinations. However, we have targeted the whole family as, often, they will continue to drink raw milk, overestimating the protection vaccination gives. It's really about changing unsafe health behaviours and for that we have needed to work with the whole community."
The dairy farmers have said how invaluable the process has been. A member of one of the dairy co-operatives said: "We did not know that brucellosis was in our area and so we were exposing ourselves and our families. Now Dr Woods has told us we can decide what is best for us to do to stop this disease getting into our beloved cattle, and how to stop us getting this terrible disease."
An older woman farmer who milks her two cattle for home consumption said: "Knowledge to prevent disease is a blessing that cannot be taken from us but can be shared."
One quarter of the world's poor depend on livestock for food or income. Protecting animal health is therefore an important global issue.
ENDS
For more information please contact Rona Cheeseman, press officer, on 0118 378 7388 or email r.cheeseman@reading.ac.uk
Notes to editors
The global Livestock for Life initiative aims to find ways of providing practical help to livestock owners in the world's most impoverished countries. The Wellcome Trust set aside £25 million to support a spectrum of activities focusing on livestock diseases in developing countries and their impact on human health and wellbeing.
VEERU is within the School of Agriculture, Policy and Development at the University of Reading. In addition to the core activities of training and research in veterinary epidemiology and livestock economics, VEERU has worked closely with PAN Livestock Services Ltd since 1987. This collaboration produces an innovative, flexible and multi-disciplinary team that currently specialises in the following areas of livestock production and health:
veterinary epidemiology, economics and surveillance
policy research and capacity building for animal health delivery through public and private veterinary services;
animal health and welfare in farming systems
animal health and production software development.