Testing the best - Uni hosts final of a National Analytical Chemistry competition
Release Date 22 June 2011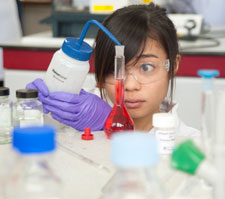 View images from the final of the 2011 National Analytical Chemistry Competition
Some of the UK's brightest young sparks were put to the test at the University of Reading this week in the final of a national chemistry competition.
Reading's Department of Chemistry played host to the final of the annual 'National Schools Analyst Competition' organised by the Analytical Division of the Royal Society of Chemistry (RSC). Over 50 sixth form students from schools across the UK enjoyed a challenging day of analytical chemistry, which included using state-of the-art equipment in the University's £4.5m Chemical Analysis Facility (CAF).
The teams of three were selected to represent their school after progressing from regional heats held earlier in the year. Teams spent the day taking part in competitive, hands-on, practical activities, using both their chemical knowledge and practical skills to solve an analytical chemistry problem. They were then assessed in terms of skill, safe working, accuracy and teamwork.
All contestants worked hard and deserve credit but the eventual winners were Sir John Deane's College in Northwich who took home a £750 cheque for their school together with Amazon vouchers for themselves and the prestigious Challenge Shield.
Team member Jack Hoffman said: "We can't quite believe it but are delighted to have won! The day was challenging but lots of fun and we learnt a lot. Reading's facilities were hugely impressive, especially the CAF which is a very inspiring place. The competition has definitely made me think about studying chemistry at higher education, hopefully at somewhere like Reading."
Dr Joanne Elliott from the University's Department of Chemistry said: "We were delighted to host this important event and it was wonderful to see such enthusiasm for the subject. Chemistry plays such a large part in our everyday lives, for example recent work in the Department by Dr John Mckendrick has led to the marketing of a biocompatible, drug eluting, stent for coronary artery implantation. I hope those competing were inspired by our state-of-the-art facilities and will consider a career in chemistry."
The RSC's Analytical Division has been organising the Competition since the 1980's with the original idea of raising the profile of the Society and to encourage an interest in the study of Chemistry, in particular analytical chemistry (or science), still at the heart of the competition.
Brian Woodget, the Coordinator of this event from the RSC said: "Over 250 schools from all over the UK compete in the heats to get to the final for this prestigious event. Chemistry is tremendously important to the UK's economy with a recent survey showing that over 20% of GDP was generated from chemically related industries. Analytical measurements pervade through all areas of science and society ensuring for instance, safety in the food we eat, the water we drink and many of the consumable items that we use in everyday life."
After the competition, both students and their accompanying teachers enjoyed a lecture entitled 'Chemistry in Space' given by Reading's Dr. Matthew Almond.
Ends
For all media enquiries please contact James Barr, University of Reading Press Officer on 0118 378 7115 or by email on j.w.barr@reading.ac.uk
Notes for Editors:
Prizes:
First Prize, Sir John Deane's College - Jack Hofmann, David Nicholson, Heather White
Second prize, Arnold School - Alexandra Booth, Alexander Card, Michael Yaxley
Third prize, North Halifax Grammar School - Duncan Lomax, Marcus Peel, Samuel Tingle
The School of Chemistry, Food and Pharmacy is a multi-discipline School with research and teaching activities covering a broad range of science. Degrees are offered in Pharmacy, Chemistry (and associated 'Chemistry with' programmes), Food Science, Food Science with Nutrition and Food Technology. The School also offers a number of continuing professional development courses.
Research activities are very broad, ranging from pure and applied life science through material science to physics; areas of interest include pharmacology, drug design, development and delivery, functional foods, nutrition, flavour chemistry, polymer and nanoscience, atmospheric chemistry and the physics of surfaces.