Reading performs strongly in Times Good University Guide
Release Date 23 June 2011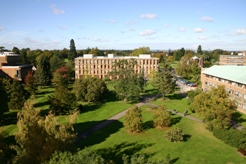 As the University of Reading prepares for its Open Day on Friday 24 June, the 2012 Times Good University Guide ranks nine subject areas taught at the University in the UK subject top 10s.
The University is ranked second in the UK for town planning, land and property management (Department of Real Estate and Planning) and agriculture. Also rated in the top ten are archaeology, art and design (Departments of Art and Typography and Graphic Communication), construction, education, food science and law.
The University is hosting its annual Open Day on Friday 24 June. Thousands of prospective students will be visiting the main campus to find out more about the University's academic offering and the high quality student experience at Reading. The Open Day offers a chance to look around the University's new facilities, including the student accommodation opened this year, the investment in catering facilities and the teaching facilities for life sciences, chemistry, business and real estate and planning as well as the new Minghella Building for the Department of Film, Theatre and Television. All the facilities are situated on the 130-hectare Whiteknights parkland campus.
A key element of The Times ranking is graduate prospects. This year's league table is based on data from 2009 graduates, which shows an improvement of 12 places in this respect for the University of Reading, However, the most recent data, the 2010 graduate prospects information, which the University of Reading has already released, shows that employability for Reading graduates in the last year has reached its highest point for a decade, with 70% of Reading graduates in graduate jobs or further study.
From this autumn, all undergraduates at Reading will have the opportunity for placements to further enhance employability.
Overall, the University is ranked 33rd in The Times Good University Guide, a rise of two places on the previous year. In league tables already published this year, the University has been ranked 32nd (The Guardian), 33rd (Sunday Times) and 34th (Complete University Guide). The University is also ranked 185th in the QS World Rankings.
More information at http://www.reading.ac.uk/life/life-opendays.aspx