Many arms make light work
Release Date 03 March 2011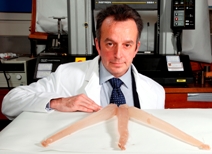 Research from the University of Reading is contributing to a multi-million pound European-wide project to develop a robot inspired by the octopus.
Dr Richard Bonser, of the School of Construction Management and Engineering, has been awarded £649,000 as part of an EU consortium to design eight arms that mimic the dexterity and control of the marine invertebrate.
The OCTOPUS project aims to build a robot that can operate in water over a variety of terrains, explore narrow spaces, grasp objects and manipulate them effectively. Future applications include underwater maintenance, such as ships' hulls and oil rigs, and the ability to locate and retrieve marine salvage and even black boxes from aircraft.
Dr Bonser said: "The octopus has amazing motor capabilities and intelligent behaviour. Its body has no rigid structures and has interesting characteristics from an engineering viewpoint: infinite number of degrees of freedom, bending in many different directions, variable and controllable stiffness, high dexterity, fine manipulation, and highly distributed control.
"Thanks to this, the octopus can adapt the shape of its body to the environment and its whole body can be squeezed into very small apertures, limited only by the size of its brain capsule. This can be used in exploration and monitoring tasks, for the capability to reach impracticable places, but also in maintenance or rescue tasks, because of the simultaneous manipulation capability."
The research, 'Novel design principles and technologies for a new generation of high dexterity soft-bodied robots inspired by the morphology and behaviour of the octopus', is led by Scuola Superiore Sant'Anna of Pisa. The total cost of the research project is 9.75m euros, of which 7.6m euros is funded by the European Commission.
The multi-disciplinary approach involves institutions from Greece, Switzerland, Italy and Israel, as well as Reading and Sant'Anna.
ENDS
For more information please contact Rona Cheeseman, press officer, on 0118 378 7388 or email r.cheeseman@reading.ac.uk