The University of Reading - 85 years old
Release Date 16 March 2011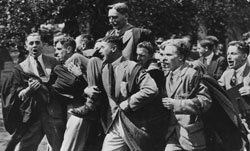 Eighty five years ago today, on Wednesday 17 March 1926, King George V granted the Royal Charter that established the University of Reading - the only university to be awarded a Charter in the period between the two World Wars.
Since then the University has grown from only 321 degree students and fewer than 100 staff to be a leading force in British and international higher education with nearly 18,000 students and over 4,500 staff.
The University has a broad international research reputation in areas ranging from climate change to food and nutritional sciences. In 2008 the University of Reading successfully merged with Henley Management College to create the new Henley Business School, a major player in the business education market, and a leading international business school based in the UK operating around the world.
Professor Gordon Marshall, Vice-Chancellor of the University of Reading said: "When I became the University's Vice-Chancellor in 2003, it was and remains a great privilege for me to lead a University with such a long and outstanding international reputation for excellence in teaching, research and enterprise.
"From its humble beginnings, the University of Reading is now listed as one of the World's Top 200 universities, established as a major player in higher education globally. It is our students and staff who make Reading such a remarkable place and who will ensure our continued success. Because of their skills and aspirations, we are well placed to meet the challenges of the future."
ENDS
Further press information from Becki Rassell, University of Reading Press Office, 0118 378 8408 / b.rassell@reading.ac.uk.