University teacher training gets backing from region's schools
Release Date 22 March 2011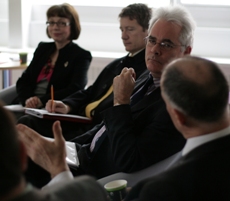 Leading teachers from across the region have stressed the importance of working with the University of Reading in training the next generation following the recent Education White paper that proposes the introduction of teaching schools.
Heads and deputy heads from both secondary and primary schools attended a conference organised by the University's Institute of Education to discuss the implications of the White paper for Initial Teacher Training (ITT).
The White paper outlines a network of teaching schools based on the model of teaching hospitals that will lead the training and professional development of teachers and headteachers. Teaching schools will be outstanding schools that will take a leading responsibility for providing quality initial teacher training in their area.
Highdown School and Sixth Form Centre in Emmer Green is one school considering becoming a teaching school. Headteacher Tim Royle said: "We mustn't labour under the assumption that all education initiatives are well conceived. They are not, but with the teaching schools initiative it is very important that, however sketchy and thin the detail is, the University and other education professionals must work together and make it a success.
"Trainee teachers of the future will need all of us to work together to retain the high standards of teacher training that we currently enjoy in partnership with the University of Reading."
There was general agreement that most of the attendees saw some real benefits in developing teaching schools but not as an alternative to current ITT - more as a complement.
Professor Andy Goodwyn, Head of the Institute if Education said: "Our current partnership arrangements are very successful and the conference attendees were adamant that they want to continue to be part of the top quality teacher training we offer here at the University of Reading.
"The Institute of Education is also looking forward to working with teaching schools that are truly outstanding and can make an even greater contribution to the development of the teaching profession."
The Institute of Education has been training teachers for over 50 years and nearly a thousand qualified teachers, for primary and secondary schools, leave its doors every year. For further information on how to train to be a teacher contact the Institute at ioe@reading.ac.uk
The University of Reading is currently undertaking a major refurbishment of its London Road campus, the original home of the University in the heart of Reading.
The £30 million investment in the University's academic infrastructure will create a new London Road home for the University's Institute of Education. The Institute will move to London Road in Summer 2011.
ENDS
For more information please contact Rona Cheeseman, press officer, on 0118 378 7388 or email r.cheeseman@reading.ac.uk.
Notes to editors