Teenagers up for science challenge
Release Date 24 March 2011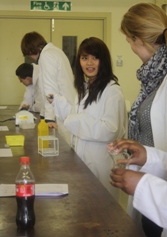 Slime, caffeine and brain power were the focus of a series of events held by the University of Reading as part of National Science and Engineering Week.
Around 300 students aged 14 to 18 from across Berkshire, Hampshire, Surrey, and Oxford visited during the week, which culminated in a Science Challenge Grand Final. This was a nail-biting affair between Kennet School in Thatcham and St Bartholomew's in Newbury, with the latter winning by just one question.
Other events included looking at how much caffeine there is in soft drinks with the University's Department of Food and Nutritional Sciences, and students were shown how the chemistry they study in school can be applied in the workplace.
Sixth-formers were given an insight into the 'Science of the Brain' in a mini-conference looking at how our brain works. Topics included how our emotions affect our brain, how our memory works and how what we eat can affect how we think.
At the end of the week, students from Berkshire tried maths puzzles and made their own polymer slime with University students as part of the Teentech event at the John Madejski Stadium.
Dr Rachel South, Science Outreach Co-ordinator at the University, said: "The Science Challenge event is always fun, interesting and noisy as classmates support their school in the final! As well as opening children's eyes to the excitement of science, the competition increases confidence in their own ability and also helps develop a strong team ethic."
ENDS
For more information please contact Rona Cheeseman, press officer, on 0118 378 7388 or email r.cheeseman@reading.ac.uk