4000th student volunteer serves local community
Release Date 24 March 2011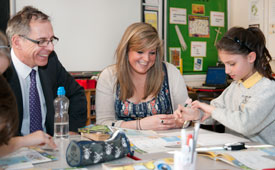 This year a volunteering programme run by the University of Reading has reached a fantastic landmark. Over 30 local schools have now benefitted from 4000 volunteers via the University's Student Tutoring Scheme which has been running for 20 years.
When 2nd year student Laura Humphreys joined the scheme and agreed to assist St Dominic Savio RC Primary School in Woodley she became its 4000th volunteer.
The University's Student Tutoring scheme places students currently in Higher Education in the classroom alongside teachers, to give help and to act as positive role models. It aims to raise the aspirations of pupils in schools and to encourage them to continue in education beyond the age of 16.
The scheme has been running since 1991 when 12 students visited Theale Green School to help out in science lessons. For more than 15 years, around 200 student volunteers each year have been visiting at least 30 local primary and secondary schools, special schools and an after-school club. Many of them extend their time well beyond their initial commitment of ten half-day visits, seeing the programme as a way of helping the community in which they live and enhancing their CV.
St Dominic's received its first volunteer in 2008. Laura Humphreys is the 14th to have visited the school. She is assisting Yr 4 teacher Julie Tranter on Wednesday afternoons.
Laura, who is 19 years old and from Tonbridge in Kent, commented: "I am very happy to have been the lucky 4000th volunteer! It really does show how well this scheme has worked for so many years. I always wanted to be a teacher from a young age, however when I came to University I became more intrigued to follow a career that relates to my Business Management degree. After just one week at St Dominic Savio RC Primary School I was reminded of my interest in teaching and I felt an immediate reward from helping the children in my class. I have only been to the school four times so far but I thoroughly enjoy myself every week and I would recommend it to anyone from any degree. It's also a fantastic to help the local community."
Julie Tranter added: "Laura is fantastic to work with and has a great rapport with the children. She's been helping out even on her days off, supporting the class in many areas such as maths as well aiding rehearsals for our performance of Treasure Island!"
Julia Hodgson who has been co-ordinating the scheme since 1994 said: "I saw first-hand how additional help for teachers could bring a valuable extra dimension to lessons when I volunteered in the primary school my children were attending. I consider myself very fortunate to have had the opportunity help bring together of some of our local schools and generations of University of Reading students.
"Voluntary tutoring appeals to students studying a broad range of subjects, with the largest contingent drawn from the arts and humanities. International students are often enthusiastic volunteers too - many use their native language skills whilst all bring different cultural perspectives to their schools."
Ends
For all University of Reading media enquiries please contact James Barr, Press Officer tel 0118 378 7115 or email j.w.barr@reading.ac.uk