International performance for unique art concept
Release Date 04 May 2011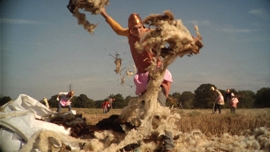 A member of the University's Department of Art has taken her work across the world to Canada to perform a unique rock opera based on agriculture and food production.
Susanne Clausen, a Reader in Fine Art, performs as Szuper Gallery with Pavlo Kerestey and, in addition to rock opera the pair has also brought a curated exhibition and spectacular video installation to the MacKenzie Art Gallery in Regina.
Originally developed for the University's Museum of English Rural Life with the participation of Michele Sereda (of Curtain Razors), the MacKenzie exhibition, entitled Ballet, will mark the Canadian premiere for this unconventional response to agricultural realities on Friday, 6 May.
Through a blended choreography of farm labour and dance movement, the duo dissolves the neat separation of rural and urban-the 'ballet' on which the world food system depends.
Susanne said: "We are delighted to be back in Canada to work on this ambitious new commission. Ballet started with research in the MERL archives and has now taken us to many different other places.
"The connection with Canada and Regina especially is very relevant to this project. Regina is the capital of Saskatchewan, a province well known for its agricultural history. The MacKenzie Art Gallery not only is a renowned contemporary art gallery, but it also has a major collection of Canadian rural art
"In order to contextualise the new video installation and performance I have curated a new exhibition, which includes works from the MacKenzie collection as well as from MERL archives and from our own sources."
The exhibition will be on view in Canada until September and has been supported by the Canada Council for the Arts, the Saskatchewan Arts Board, the City of Regina Arts Advisory Committee and the British Council.
More details of the performance can be seen at http://www.mackenzieartgallery.ca/Exhibitions/Upcoming_Exhibitions/287/

ENDS
For more information please contact Rona Cheeseman, press officer, on 0118 378 7388 or email r.cheeseman@reading.ac.uk
Notes to editors
Art is a new department comprising the former long established departments of Fine Art and History of Art. It has a shared history with its origins in the Reading School of Art, established in 1860 the founding school of the present University.
All of the academic staff are actively engaged as artists, researchers, historians and curators Its special strengths lie in exhibition history and curatorial practice, in artists' writing and in theoretical and historical approaches to art. The Department's research has been recognised for its international excellence.