Archbishop of Canterbury discusses the role of global citizens at University of Reading
Release Date 09 May 2011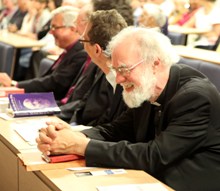 View photos of the event on Flickr
The Archbishop of Canterbury visited the University of Reading to discuss global citizenship and the challenges it brings.
Dr Rowan Williams was joined by Professor Simon Caney, from the University of Oxford, and Professor Richard Bellamy, from UCL, on Friday 6 May at Henley Business School for 'Global citizenship: limits and responsibilities', organised by the University's Centre for Political Theory.
The Archbishop focused on the challenges that transcend national boundaries, such as climate change, poverty, financial collapse, and impending food shortages. He stressed that all nations have responsibility to act to overcome these world problems.
When asked if people of faith make for better global citizens, Dr Williams said: "My own experience in the Anglican church is that some of the most effective work is done with cultural co-operation among faith communities."
The evening raised a lot of thought and debate and the audience had the opportunity to pose a number of questions to the panel.
ENDS
For more information please call Rona Cheeseman, press officer, on 0118 378 7388 or email r.cheeseman@reading.ac.uk