Blooming marvellous – new look University botanical garden now open to all
Release Date 18 May 2011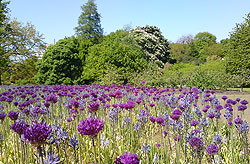 The University of Reading is delighted to invite the local community to its floral treasure, the Harris Garden, for a free special event this Sunday (22 May). Organised in partnership with the Friends of the Harris Garden the afternoon will celebrate the botanic garden's redevelopment and new purpose of conservation and recreation for all.
From 2.00pm -5.30 pm there will be a chance to explore the garden at leisure or take a guided tour. University experts will be on hand to answer gardening questions and help visitors discover some of the secrets of the garden's wildlife, and if the promise of wonderful weather comes true, guests can relax and enjoy refreshments on the sun-soaked lawn.
The Harris Garden is blooming early this spring. Following landscaping work in November, the exceptionally warm and dry spring weather has accelerated the flowering of many of the garden's 50,000 bulbs that are now in bloom. The stunning display of bulbs are just the beginning of the long season of flowering interest the new work has installed.
Giles Reynolds, Head of the University's Grounds team now responsible for upkeep of the Garden said: "The University is delighted to be relaunching this fantastic resource to the public. I look forward to welcoming many Reading residents to a hopefully sunny Harris Garden this Sunday."
The Harris Garden was once the home paddock of 'The Wilderness', a 'Victorian house' built in the remains of a famous landscape garden created at Whiteknights by George, Marquis of Blandford between 1798 and 1819.
It is a botanic garden covering approximately five hectares, established in the 1970s and extended over the coming years as a teaching and research resource for the University.
Since 2010 the Garden has undergone significant development work and the garden is now open to all with recreation and conservation being its primary function.
Secretary to the Friends of the Harris Garden, Ann Derbyshire, said "The Friends are keen to continue supporting the garden, as they have since 1988, under the new management. We have been contributing to the planning of this next phase of the garden which includes some exciting planting plans.
"We always welcome new members and volunteers, so if you are interested in getting involved do get in touch via our website. The Friends are really looking forward to a productive future working with the University Grounds Team." (www.friendsoftheharrisgarden.org.uk)
Ends
Further press information from James Barr, University of Reading press office, 0118 378 7115, j.w.barr@reading.ac.uk