Leading evolutionary biologist elected to Royal Society Fellowship
Release Date 20 May 2011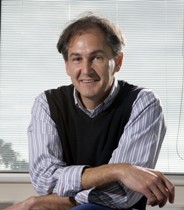 Professor Mark Pagel, of the School of Biological Sciences at the University of Reading, has been elected to the Fellowship of the Royal Society, it was announced today.
As a Fellow of the UK's national academy of science, Professor Pagel joins the likes of Richard Dawkins, Stephen Hawking and Sir Magdi Yacoub.
Professor Pagel said: "I am delighted to be recognised by the Royal Society, and wish to thank both the University for its generous support, and the people who have worked closely with me over the years to make our science work."
The Royal Society is the world's oldest scientific academy in continuous existence, and has been at the forefront of enquiry and discovery since its foundation in 1660. Each year 44 Fellows are elected from a group of over 700 candidates who are proposed by the existing Fellowship on the basis of excellence in science.
Professor Pagel leads the Evolution Group at the University of Reading and is an evolutionary theorist with interests in mathematical and statistical modelling of evolutionary processes.
His co-authored 1991 monograph on comparative statistical methods in evolutionary biology is standard reading for the field. He is the author of several other statistical methods for identifying and analyzing evolutionary trends, and his work routinely appears in the leading scientific journals.
Professor Pagel has just been awarded £1.8 million from the European Research Council to continue his work on the evolution of human languages. The project will search for evidence of the mother tongue of all languages across the world. It aims initially to reconstruct the history of language dating back 15-20,000 years, eventually building up a picture of how our 7,000 living human languages evolved. During the five-year study, Professor Pagel and his research team will document the shared patterns in the way we use language and research why some words succeed and others become obsolete over time.
He has lectured in the University's Public Lecture series, and his new book, Wired for Culture: Origins of the Human Social Mind, will be published in early 2012.
Professor Pagel came to the University in 1998 from Oxford after taking a PhD in mathematical statistics in the USA and a period teaching at Harvard. He is External Professor at the Santa Fe Institute.
Professor Gordon Marshall. Vice Chancellor of the University, said: "This is the ultimate accolade for Mark's remarkable contribution to the University's School of Biological Sciences. Mark is one of the foremost academics in the field of evolutionary biology and his election to the Royal Society continues a tradition of distinguished scholars from Reading being elected to the Royal Society."
The Royal Society citation read: "Mark Pagel is distinguished for having shown how a combination of phylogenetic trees of species and knowledge of their features can be used to reconstruct the evolutionary past and how it gave rise to the present. He has introduced novel statistical modelling techniques that provide solutions to outstanding problems of trait evolution. These solutions have influenced how evolutionary biologists and anthropologists conduct their science and the evolutionary questions they test. He has used his approaches to address and solve questions of fundamental importance involving speciation, adaptation, punctuational evolution and human cultural and linguistic evolution."
Just two years ago Keith Shine, Professor of Physical Meteorology at the University, was elected to the Fellowship for his 20-year contribution to the study of climate change.
More information at http://royalsociety.org/newFellows
ENDS
For more information please contact Rona Cheeseman, press officer, on 0118 378 7388 or email r.cheeseman@reading.ac.uk
Notes to editor
Professor Mark Pagel, Dr Andrew Meade and colleagues in the Evolution Research Group at the University of Reading use statistical and computational methods inspired by genetic evolution to study the evolution of language and culture. They are finding ways to build phylogenetic trees of languages to measure rates of word evolution over time, and then to use those trees to answer questions like: Why do some words evolve faster than others? Are there words that change slowly enough to allow us to reconstruct the languages of our ancient ancestors, and if so, what are they? How are new languages born, and how quickly do they diverge from one another?