Could your garden support the University's pond project?
Release Date 23 May 2011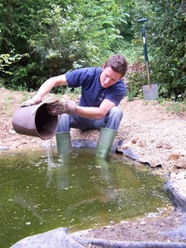 Residents have the chance to have their own garden pond fitted for free thanks to a research project at the University of Reading.
Zoologists in the School of Biological Sciences want to establish a network of 50 new ponds in Reading to enhance the biodiversity of urban areas by providing a clean and safe aquatic habitat to protect freshwater wildlife.
Once the ponds have been established they will also serve as a useful research tool in assessing the affects urban areas have on biodiversity. Students will monitor the habitat quality and biodiversity level of the ponds for four years.
Adam Freeman-Pask, who is organising the project as part of his PhD in the School's Environmental Biology section, said: "Garden wildlife ponds can support higher levels of biodiversity than nearby lakes and rivers. This project is the first urban 'pondscape' of its kind to be created from scratch.
"Each pond will be located in the security of a volunteer's private garden - in doing so we not only create new habitats but also new environmental stewards. We will do all the data collection and analysis but will talk to volunteers about their own pond and the wildlife it supports."
The project is looking to install ponds in the autumn in gardens in the Earley, Winnersh and Twyford areas (RG1, 5, 6 and 10) so as to create a wildlife corridor where ponds act as stepping stones. Each pond will be 2m in diameter with a maximum 30cm depth.
Ponds support 45% of the species in Reading's Biodiversity Action Plan, including great crested newts, water voles and reed buntings.
If you would like be part of the scheme, please email Adam at
a.s.freeman-pask@pgr.reading.ac.uk
The project would also benefit from additional funding. Adam said: "Supporting this unique and innovative biodiversity scheme is a great way of enhancing the social and environmental responsibility of any high profile organisation."
For more information about the pond scheme, please visit http://www.reading.ac.uk/blogs/urbanpond/
ENDS
For more information please contact Rona Cheeseman, press officer, on 0118 378 7388 or email r.cheeseman@reading.ac.uk
Notes to editors
The School of Biological Sciences is a research intensive institution, which prides itself on the excellence and relevance of its degree courses. It consists of two sections - Biomedical Sciences and Environmental Biology. The latter deals primarily in ecology and evolutionary biology, and the applied links between these disciplines, wildlife conservation and the biological control of agricultural pests and diseases.