University of Reading wins gold at Chelsea Flower Show
Release Date 24 May 2011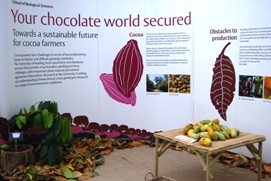 The University of Reading won a gold medal today at the Chelsea Flower Show for its exhibition on the crucial cocoa research undertaken by the School of Biological Sciences.
The stand, Your Chocolate World Secured, took top honours in the Continous Learning Awards.
Reading is home to the International Cocoa Quarantine Centre (ICQC), which handles all international movement of cocoa breeding material and is the only facility of its kind in the world.
The ICQC is playing a pivotal role in stopping the spread of pests and disease on cocoa, whilst ensuring that research centres and cocoa plantations worldwide have access to new and interesting types of cocoa.
Andrew Daymond, University Research Fellow and co-ordinator of the ICQC, said: "We are thrilled to have won gold this year. Our exhibit explains all about the problems and challenges cocoa growers face, the work we do at Reading to ensure that different types of cocoa are transferred between regions in a safe manner and research into how the crop responds to changing environmental conditions."
The School of Biological Sciences has a five-year project to assess the threat climate change poses to cocoa. Cocoa production faces significant problems from increasing global temperatures and more varied rainfall. Using state-of-the-art greenhouses that simulate current and predicted climate conditions in cocoa-growing regions, Reading researchers aim to identify traits that crop breeders can select for when developing new cocoa varieties better suited to likely future climates.
Cocoa is one of the most important sources of income for many countries in the humid tropics. Together, Ghana and The Ivory Coast produce nearly 70% of the world's supply. For Ghana, where cocoa is grown by smallholder farmers, cocoa accounts for over 40% of total export revenues and two million people are involved either directly or indirectly in its production.
ENDS
For more information please contact Rona Cheeseman, press officer, on 0118 378 7388 or email r.cheeseman@reading.ac.uk
Notes for editors
The Crops Research Group within the School of Biological Sciences studies the physiology and management of soft fruit and more generally of tree crops, the integration of crops and trees within urban environments, breeding of tropical crops and associated aspects of tissue culture and genetic manipulation, and the population biology of crop protection. It manages the International Cocoa Quarantine Centre and is also responsible for scientific management of the UK National Fruit Collection near Faversham in Kent.