International event tackles greenhouse gas emissions
Release Date 01 November 2011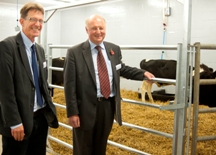 Agriculture and Food Minister Jim Paice was impressed by facilities at the University of Reading's Centre for Dairy Research (CEDAR) during a visit to highlight the work of Defra to improve the measurement of greenhouse gas emissions.
The University hosted Global ReseArCH4 inveN2Ory, which was an opportunity for academics and industry from across the world to view the latest measurement techniques, particularly around methane and nitrous oxide emitted by livestock, soil and manure.
Mr Paice said: "Climate change poses problems for us all, and that's why this Government is putting £12.6 million into making sure we know just how much greenhouse gas is being produced by the agricultural sector. Defra is leading the way internationally on adapting to climate change on a number of fronts, and we're absolutely committed to cutting the country's greenhouse gas emissions by 80 per cent by the year 2050.
"The farming sector has got a huge role to play in helping us all achieve that goal, which is why it is great to see the technological innovations on display at this workshop, which will help the industry play its part in full."
The University is one of the country's leading institutions engaged in agricultural research and CEDAR represents the largest facility in the UK for nutritional, reproductive and metabolic studies in dairy cows. Current research includes looking at how cows' diet affect their production of methane, the role of milk in body weight control and how milk consumption affects chronic disease risk.
Chris Reynolds, Professor of Animal and Dairy Science at Reading, said: "The aim of the workshop was to improve and harmonize measurement methodologies with the ultimate aim of developing mitigation strategies to tackle greenhouse gas emissions. It allowed delegates from around the world to learn about and see the technologies in use, and understand their application and limitations."
The workshop supported the work of the Global Research Alliance, which brings countries together to find ways to grow more food without growing greenhouse gas emissions.
ENDS
For more information please contact Rona Cheeseman in the press office on 0119 378 7388 or email r.cheeseman@reading.ac.uk