University gives public insight into developments during Green Week
Release Date 02 November 2011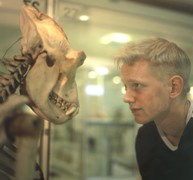 The University of Reading is delighted to invite the public to a Community Open Event on Monday 7 November at 6.45pm at the Cole Museum, the University's fascinating permanent collection of zoological artefacts. The museum is housed within the Animal and Microbial Sciences (AMS) Building at the Whiteknights campus.
The event, part of the University's Green Week, is an opportunity for members of the local community to learn more about the work of the School of Biological Sciences, in the company of Dr Mark Fellowes, Head of the School, as well as finding out about some of the achievements and developments taking place at the University, and to meet other senior university staff representatives.
During the evening, guests will be able to learn about collaborations between researchers and nearby residents, such as how local people are contributing to discoveries into the feeding habits of wild birds and how University of Reading scientists are helping people create garden ponds to encourage wildlife in urban areas.
Professor Steven Mithen, Pro Vice-Chancellor for International and External Engagement, and other senior members of staff will be on hand to answer questions and explain current and future campus developments.
Ann Westgarth, Community Relations Manager, said: "We are proud of our links with our neighbours and feel we have a healthy and fruitful relationship with the local community.
"This event, one of the first events as part of the University's Green Week, will showcase some of the ways in which local people are directly helping us deliver world-class research in the field of biological sciences, as well as being an excellent platform for the University to hear the views of our neighbours.
"We hope the event will provide a valuable discussion which will further strengthen our ties in the future. I'm looking forward to welcoming residents to the Whiteknights Campus on 7 November."
The University of Reading is proud of the role it plays in the local community. It is one of the largest employers in the region and educates highly-skilled graduates, many of which stay on in the area, and benefits the local economy to the tune of £600m a year.
The Community Open Event begins at 6.45pm on Monday November 7, at the Cole Museum, at the Animal and Microbial Sciences (AMS) building at the Whiteknights Campus (Shinfield Road entrance)
For further information and to register for this event please email events@reading.ac.uk or telephone 0118 378 4313.
Ends
For University of Reading media enquiries please contact Pete Castle, press officer, on 0118 378 7391 or email hm903488@reading.ac.uk