New teachers praise reading at Reading
Release Date 03 November 2011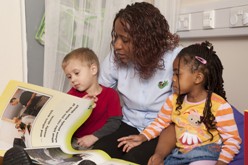 Newly-qualified teachers produced by the University of Reading's Institute of Education are among the most confident in the country teaching children to read.
In a survey by the government's Training and Development Agency for Schools (TDA) of newly-qualified teachers who completed their training in 2010, 79 per cent of University of Reading graduates rated their training to teach reading, including phonics and comprehension, as 'good' or 'very good'.
This is significantly higher than the sector average of 58 per cent, placing the University as one of only 11 higher educations institutions in the country ranked in the upper tier.
The high figure maintains the University's strong performance in this area, with Institute of Education improving its rating among its own graduates every year since the TDA began its survey in 2007, and has consistently shown results above the sector average.
With one in 10 boys aged 11 starting secondary school with a reading age of just seven, and 16 per cent of children failing to reach the required standards of reading at key stage 2, there is an increasing focus on improving standards of teaching children how to read.
In a letter to the University, Dr Michael Day, TDA Executive Director for Training, praised the University's performance as 'significantly above the sector average'.
"This is a substantial achievement by you and your partner schools in developing and providing training to teach reading that is clearly valued for its quality by the majority of your NQTs," he said.
Professor Andy Goodwyn, Head of the Institute of Education, University of Reading, said: "Teaching children how to read is one of the most vital skills that any primary teacher needs to master.
"As one of the top-ranked higher education institutes in the country for all types of teacher training, we have long been confident that we are doing well in this area, but the result of the TDA's survey is a valuable recognition of one of the University of Reading's strengths."
The same survey of newly-qualified teachers showed that 92% of students training to be primary school teachers at the University of Reading considered their course to be 'very good' or 'good' overall, higher than the national average of 80%.
Ends
For more information, or to organise an interview, contact Pete Castle, University of Reading press officer, on 0118 378 7391 or hm903488@reading.ac.uk.
Notes for editors:
The Institute of Education at the University of Reading is one of the leading providers of teacher training in the UK. Every year, nearly 1,000 students graduate as newly qualified teachers, and hundreds more qualify at Masters degree and PhD level. The University has partnership arrangements with more than 300 schools, which employ the majority of our national graduates.
Graduates from the Institute have an excellent chance of gaining employment, with 96% of our graduates finding a teaching job last year.