Students campaign to make Reading greener
Release Date 09 November 2011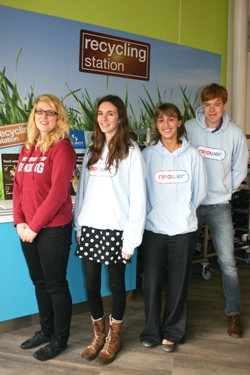 A group of University of Reading students is trying to encourage others to ditch bad environmental habits and do their bit to save the planet.
The group, called 'Waste Not Want Not', was set up by four second year environmental sciences students at the University and has already been shortlisted for a major award.
Anna Pierlejewska, 20, Tom Parry, 22, and 19-year-olds Anwen Beaton and Emily Bastable have reached the finals of the nPower Future Leaders Challenge - a national competition encouraging students, both undergraduates and postgraduates, to inspire people in their area to live in a more sustainable way.
The students aim to get the message out across the University campus and to the wider community in Reading that throwing food away wastes money and is bad news for the environment.
As well as encouraging people to think about how their actions impact on the environment, the group is petitioning the University and Reading Borough Council to make it easier for people to recycle their food scraps, to bring Reading in line with some other council areas. Currently, food waste from Reading households is sent to landfill and only around a third of waste is recycled or composted.
The students are aiming to reach out to as many people as possible with their eco message, using social media to speak directly to fellow students and others, and have set up a Facebook group and YouTube channel to get their message across.
They are keen to point out the savings that cash-strapped students could be making by throwing less food away.
"We need to help people to get into good habit," said Anna. "It's about doing the right thing, but it's making people realise that doing the right thing for the environment also makes sense in terms of saving cash."
Group leader Anwen said lots of people on campus, including the University's senior managers, had got behind their campaign, but said they needed more help - including by people visiting their sites and 'liking' them.
"People seem to be really interested in what we're doing," she said. "They are glad we are doing it and think we have some good ideas.
"Students are more environmentally aware than ever these days and are willing to change their own habits."
The group will find out if they have won the competition at an event in Sunderland on December 9.
The success comes as staff and students take part in Green Week, a series of eco events that form part of the University's drive to cut its energy use and carbon emissions by 35% by 2015.
Ends
For more details, or to organise interviews, contact Pete Castle, at the University of Reading press office, on p.castle@reading.ac.uk or 0118 378 7391.
Notes to editors:
The University of Reading is proud of its contributions to the environment. It is internationally renowned for research into environmental sciences, including at the Walker Institute for Climate Systems Research and the Technologies for Sustainable Built Environments research centre, manages beautiful green spaces, such as Whiteknights Campus, voted the top university green space in the UK at the 2011 Green Flag awards, and is committed to reducing its impact on the environment through its Clean & Green sustainability scheme.