Sweet sounds of link-up between University and business
Release Date 17 November 2011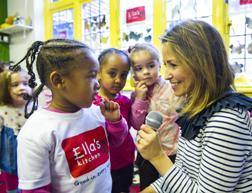 A link between the University of Reading and organic baby and toddler food company Ella's Kitchen has provided the scientific back-up for a campaign to encourage toddlers to eat more fruit and vegetables.
The company has launched a series of songs recorded by former S Club 7 singer Rachel Stevens to try and encourage young children to eat more healthy foods.
The research was made possible through a Knowledge Transfer Partnership (KTP), a collaborative scheme between the University and Ella's Kitchen, worth £150,000. The KTP is being delivered by KTP Associate Paul Dazeley, who works between the University's Psychology Department and Ella's Kitchen.
Research with nursery school children, co-funded by the University and the company as part of the KTP, found that activities such as poking fingers in cooked vegetables and singing songs about fruit helped to encourage children to eat more healthy foods.
The successful KTP is one of two between the company the University. Reading's Department of Food and Nutritional Sciences runs a second project, giving Ella's Kitchen access to the Department's world-class research facilities. The partnership is developing a strategy to provide the company with a consistent high standard of raw materials, to cut waste and maintain the high quality of its products. Both projects reinforce Ella's Kitchen's 'Good In Every Sense' brand positioning.
Researchers at the University of Reading have already shown that there is a link between children's exposure to pictures of unfamiliar foods and their willingness to eat them. Scientists are now working on a new project examining different ways to encourage young children to eat more healthily, with results likely to be published next year.
Dr Carmel Houston-Price, from the School of Psychology and Clinical Language Sciences at Reading, said: "Young children can be fussy about trying new foods, and often refuse to eat food that is unfamiliar to them.
"I'm pleased that through the success of this link between the University and industry, Ella's Kitchen is now rolling out these songs to encourage healthy eating. With a growing body of evidence linking diet in early years to a child's prospects later on in life, anything that is shown to help children to eat more healthily is welcome."
ENDS
For further information or to organise interviews, contact Pete Castle, University of Reading press officer, on 0118 378 7391 or p.castle@reading.ac.uk.
Notes for editors:
Knowledge Transfer Partnerships
This Partnership received financial support from the Knowledge Transfer Partnerships programme (KTP). KTP aims to help businesses to improve their competitiveness and productivity through the better use of knowledge, technology and skills that reside within the UK Knowledge Base. KTP is funded by the Technology Strategy Board along with other government funding organisations.
School of Psychology and Clinical Language Sciences
The School of Psychology and Clinical Language Sciences at Reading is renowned for its excellence in teaching and research. In the last national Research Assessment Exercise in 2008, 95% of the research produced by academic staff in the department was recognised as of international quality, with over 60% rated as 'internationally excellent' or 'world leading'. It was also awarded the top marks for its teaching with an Excellent rating in the last Teaching Quality Audit.
University of Reading
The University of Reading is rated as one of the top 200 universities in the world and is one of the UK's top research-intensive universities. Areas of particular research strength recognised include meteorology and climate change, typography and graphic design, archaeology, philosophy, food biosciences, construction management, real estate and planning, and law.
Standards of teaching are also excellent, with the University consistently scoring highly in the National Student Survey. 89% of Reading students responding to the most recent survey stated they were satisfied with the quality of their course.
Ella's Kitchen
Ella's Kitchen was founded six years ago by University of Reading graduate Paul Lindley, and named after his daughter Ella. It produces a range of organic baby food which is now sold across the UK, Scandinavia and America, with sales of £16.5m in 2010. Its headquarters are in Henley, Berkshire.
Ms Stevens rose to fame as a singer and actor with the 'S Club 7' group and TV programme, and was a contestant in the 2008 series of 'Strictly Come Dancing'. She now has a one-year-old daughter, Amelie. She has recorded a mini-album of five songs for Ella's Kitchen, available to download for free on the company's website, www.ellaskitchen.co.uk. The songs are new versions of nursery rhyme favourites, with new lyrics promoting a healthy eating message.