Mobile 'app' could cut hospital waiting times
Release Date 22 November 2011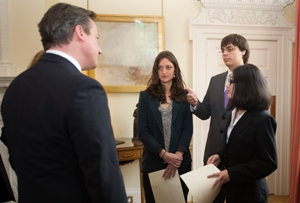 Students from the University of Reading met the Prime Minister after creating an innovative mobile phone application aimed at cutting waiting times in hospitals.
The 'app', called A&Express, aims to give patients with non-life threatening injuries advice on the best Accident & Emergency hospital to attend to receive treatment fast.
The system has won an 'Appathon' prize for students run by Silicon Valley Comes to the UK (SVC2UK), a not-for-profit group that aims to encourage British technical entrepreneurship.
Reading students Wenni Gu, a third year International Relations and Economics undergraduate, and Chris Alexander, who is studying for a Master's degree in Robotics in the School of Systems Engineering, conceived the idea and developed it with fellow group member Anna Robinson, a student of Medicine at University College London.
The group were invited with other winners to 10 Downing Street on 16th November, where they met the Prime Minister, David Cameron, who spoke about the importance of encouraging entrepreneurship to boost Britain's flagging economy.
The group realised that patients could sometimes be seen by a doctor more quickly by visiting a hospital that was further away, rather than one that is nearby.
The app uses recently-released government data on actual hospital waiting times, but is designed to make use of 'crowd-sourced' data from patients using the system that will provide more accurate information on how long it actually takes to be seen by a doctor.
As well as telling users which casualty departments have the shortest waiting times, the app can plot a travel route to get there by car, on foot or by public transport, and provides links to other published information on each hospital.
Once the user has reached the hospital and checked in with staff, the software will provide real-time advice on when the patient is likely to see a doctor and if they have been kept waiting longer than on average.
Wenni, 20, said the group were now looking to see how they could further develop their app, and were hoping to make use of other SVC2UK events for advice on turning their idea into a money-making business.
Wenni, who is originally from Beijing, China, said she came up with the idea after having to wait for hours in an Accident & Emergency department without knowing how long her wait would be or even knowing which was the best hospital to go to.
"In some places like London there are lots of hospitals to choose from, but at the moment there is no way to compare which would be the quickest place that you would be seen," she said.
"We hope this will help to hold hospitals to account as people will be able to check for themselves how quickly they are seen and how this compares against the average. It could also reduce pressure on waiting times in busy department by encouraging patients to go further afield if they knew they would be seen more quickly."
Oli Gibson, president of the SStartup, the University of Reading's entrepreneurship society, said the prize showed that students were full of creative business ideas.
"These days students are increasingly aware that they need to more than just graduate to secure their future, which is why more and more are looking to turn their bright ideas into workable, profitable businesses," he said.
"Reading students are grasping this opportunity, which is vital not only for their own prosperity and that of future employers, but also for the health of the whole economy."
Ends
For more information or to organise interviews, contact Pete Castle, University of Reading press office, on 0118 378 7391 or p.castle@reading.ac.uk.
Notes for editors:
To see the A&Express app in action, watch the group's YouTube video: http://www.youtube.com/watch?v=ld5ijnKJPoM
As a research intensive university, Reading is already a key partner for businesses of all sizes, from multi-nationals to growing, innovative SMEs and the University recognises the important role it plays in supporting the regional, national and global economy.
The University of Reading provides state-of-the-art dedicated business spaces in two purpose built Centres on campus, including the Reading Enterprise Centre. Businesses can also access the skills and knowledge of the University's world-renowned staff and technical services, access the University's many professional development opportunities and collaborate with experts to create new products and services.
SStartup is the University of Reading's entrepreneurship society which aims to help all students achieve their business aims, whatever their academic background. The society provides students with support and resources, such as mentoring, training and office space, to help students set up their own businesses, enhance their employability, and meet like-minded people.