Strong undergraduate applications reported by University of Reading for 2012 entry
Release Date 28 November 2011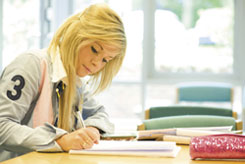 Early undergraduate applications to the University of Reading for 2012/13 entry are strong, with numbers slightly up on 2010, a benchmark year for applications in recent years, as reported on 28 November.
The University is maintaining its reputation as a University of choice - in recent years attracting an average of six applications per place, and is attracting applications from high calibre candidates.
At the end of November, the University's home and EU applications were up on 2010 and down 5% on 2011/12, which was a record year for applications and not typical of recent application trends. After a slower start than usual this year, applications are now coming in at the rate of 350-450 per day, although there is little uniformity among subjects.
Applicants have been taking time to research their university choices in light of the change to tuition fees introduced by Government for 2012. The University of Reading has seen attendance at Open Days this year increase by a third and admissions staff report that applicants are asking more questions than ever and thoroughly researching their options.
The end of November offers the first real indicator of applications for the year and we expect the strong showing of the last month to improve further before Christmas. Although it is still too early to be able to identify clear patterns, the signs at this stage are that Reading remains a popular place to study.
Find out about the undergraduate subjects and courses on offer at the University of Reading >>>