Law graduates meet current students at London reception
Release Date 30 November 2011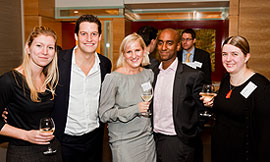 The University held its second Law Alumni Reception on Wednesday 16th November, which was attended by over 50 Law graduates. The event was generously sponsored by Allen & Overy and held at their Bishop's Square, City offices in London.
Guests enjoyed the opportunity to socialise and network with their Reading contemporaries and Professors from the School of Law over drinks at the Reception. Current law students were also in attendance, and were able to gain professional advice and make new contacts with those who have established careers in the legal sector.
Acting Vice-Chancellor, Professor Tony Downes, welcomed guests to the event and gave an update on current University news. Short presentations were then given by Professor Christopher Hilson and Professor Christopher Newdick from the School of Law, who emphasised the importance of maintaining a strong alumni network. Professor Christopher Newdick said:
"We are in the top four Law Schools for graduate prospects, which is a crucial part of the choice made by prospective students when making their University selection. Our alumni are incredibly generous, both with their time and financial support. With their help, Reading law students develop their skills through a wide range of student pro bono and other extra-curricular opportunities, including: a partnership with five local Citizens Advice Bureaus; dispute resolution negotiations with a local charity; study visits overseas to Europe and beyond; local and national mooting, negotiation and client- interviewing competitions; as well as through careers talks, mentoring and placements.
"We are very proud of our alumni. Their generosity and support ensures Reading law students have access to a greater range of opportunities to excel, and enhances the Law School's ability to produce graduates of the highest calibre."
Guests were also delighted to hear from recent graduate Liz MacArthur (LLB Law 2011), who spoke to alumni about getting involved with mentoring, internships and funding international trips. Liz talked about the invaluable experience she gained at a recent study trip to Malaysia, which was only made possible thanks to alumni funding.
Another Law Alumni Reception will take place in 2012; details for which to be released at a later date.
Ends
Notes to Editors
The School of Law at the University of Reading was established almost 40 years ago, and its reputation, research and the quality of the experience enjoyed by students is consistently recognised in the annual UK university league tables. The School was recently ranked 8th (of 91 universities) in the UK for the subject of law in The Times Good University Guide.
Thank you to our generous sponsors, Allen and Overy, and to Calum Burnett (LLB Law 1989) in particular for his ongoing support.