More active teaching methods required to reverse decline in children's enjoyment of poetry
Release Date 05 October 2011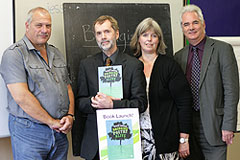 With National Poetry Day tomorrow (6 October), please find below an expert quote from Dr Michael Lockwood from the University of Reading's renowned Institute of Education. Dr Lockwood and colleagues have recently written and had published Bringing Poetry Alive: a Guide to Classroom Practice.
A new book from the University of Reading's Institute of Education aims to address the decline in children's enjoyment of poetry. Bringing Poetry Alive: a Guide to Classroom Practice, contains suggestions on how to make the teaching of poetry more active and engaging and has contributions from the Institute's tutors past and present, and from children's poets Michael Rosen and James Carter, both former Masters students.
Dr Michael Lockwood, the book's Editor said: "In the UK, as in many developed Western countries, researchers report a pattern of children's enjoyment of poetry declining as they move through their school careers. As children get older, the field of poetry seems to narrow both in terms of the choice of poems and the activities associated with them in schools.
"From the simple pleasure in songs and nursery rhymes experienced before schooling and the generally positive attitudes children show in the early primary school years, too many children are switched off poetry by the early years of secondary school. For many, poetry becomes associated with a frustrating search for hidden meanings and features, to be memorized for the purposes of assessment, lacking in any real enjoyment or relevance.
"This is all the more disappointing as we know that poetry, as well as giving pleasure, can aid learning through being used right across the curriculum. Poets write on all subjects from Arts to Sciences and writing poems can be an effective form of response in the Arts and Humanities in particular. Poems also hold an appeal for those children who find other literary texts too daunting or uninspiring.
"To engage pupils aged from five right through to 14, a more active approach to teaching is needed, with an emphasis on the performing, writing and 'creative reading' of poems, rather than too much formal analysis too early."