University alumni welcomed to House of Lords
Release Date 11 October 2011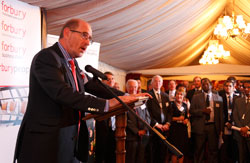 Over 300 graduates spanning seven decades attended the 5th University of Reading alumni reception at the House of Lords on Friday 30 September.
During the evening Reading graduates caught up with old friends and enjoyed a guided tour of the magnificent building. The event also provided the University with the opportunity to thank alumni whose generosity helps to ensure Reading remains one of the world's leading higher education institutions.
Through the Annual Fund, the generosity of Reading graduates has already raised £2.7 million since 2004. These donations support a wide range of academic and extra-curricular projects across campus, and provide invaluable financial support to students who would otherwise be disadvantaged due to lack of funds.
The reception, sponsored by Law firm, Clarkslegal LLP, was hosted by former Foreign Secretary The Rt Hon the Lord Carrington, who served as the University's Chancellor from 1992-2007.
Acting Vice-Chancellor, Professor Tony Downes recognised the vital contribution alumni make and the significant changes that former Vice-Chancellor, Professor Gordon Marshall, oversaw during his time at the University.
Professor Downes said: "Our alumni and Friends play an enormous role in every aspect of our work, whether through volunteering, mentoring, donating or hosting such an event. Getting together with our alumni in a stunning venue like that is a great way of staying in touch. It was also an occasion to thank the generosity of benefactors whose support expands the opportunities available to students and increases the breadth and depth of our world class research.''
Some of the University's most significant donors, including members of the Reading Pioneers, were invited to conclude the evening with a supper, at which Professor Steven Mithen, Pro-Vice-Chancellor for International and External Engagement, spoke on the University's contribution to sustainable global development and understanding.
Alumni enjoyed reminiscing on their student days and a commemorative anniversary photograph was then taken of those who graduated in 1961, 1971, 1981, 1991, 2001 and 2011, celebrating the important milestones they had all reached since leaving Reading. Donors from anniversary years have raised over £32,000 so far, which has translated into bursaries for very talented students across all faculties.1
Alice Carter-Tyler (BA English, 2011) was delighted to attend the reception after winning tickets for signing up to the online alumni community:
Alice said: "I found the House of Lords Reception a fantastic experience, providing the chance to meet a wide range of Reading alumni from different years in stunning surroundings that provided a real talking point.''
Ends
For more information, please contact James Barr, press officer, on 0118 378 7115 or email j.w.barr@reading.ac.uk
View photos from the event >>>
1 To find out more about some of the projects that alumni giving has made possible, please visit: www.reading.ac.uk/alumni/annualfund