Leaders in development and investment discuss their business plans for the next five years
Release Date 14 October 2011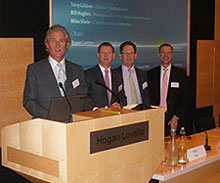 Three leading figures in development and investment asked the audience at the 8th Reading Real Estate Foundation (RREF), What should you own in the next five years?'
On Tuesday 11 October 2011, 150 people from across the industry heard from speakers Tony Gibbon, Partner at GM Real Estate, Bill Hughes, Managing Director of Legal & General Property and Mike Slade, Chief Executive of Helical Bar who spoke about their investments for the future. They also discussed key issues and debated their own views on prime property, the move towards a residential asset class in the UK and green buildings.
RREF is a registered charity set-up to provide financial support for the renowned real estate education provided by the University of Reading. With the support of the University, its alumni and close ties with industry, RREF offers bursaries and hardship grants and a professional mentoring programme for students, supports employability and outreach projects and much more.
The event was chaired by Bryan Laxton, CEO UK Cushman & Wakefield, and Trustee of the charity. Mike Slade, in the exuberant style he is well known for, explained why he is known for 'good timing' in the market and how his strategy often bucks the trend. In contrast Tony Gibbon stressed London as the international centre of many sectors, including insurance and finance, and there is continued occupier and investor demand for the city.
Bill Hughes suggested we are currently operating in unprecedented circumstances which are likely to persist into the future; he explained why he believes that a conventional approach is doomed, with thematic investment being key to future success.
Andrew Marshall, Chair of RREF RG10 Committee for recent graduates, commented:
"An energetic, informative and thoroughly interesting discussion from three distinguished senior members of the property industry. I hope, and am no doubt sure, that future forums are as thought provoking and as well attended."
For further information about the RREF, please contact Nicole Gillham, Executive Director of RREF, n.gillham@rref.reading.ac.uk or tel. 0118 378 4193.
END
Notes for Editors:
The Reading Real Estate Foundation (RREF) is a registered charity and has been set up to provide support for real estate and planning education at the University of Reading. It was incorporated on 4 January 2002 as a company limited by guarantee. On 1 August 2009, RREF and the University of Reading forged a closer relationship whereby many of the running costs of the charity were taken over by the University, allowing all funds raised by RREF to be directed solely to its projects.
Its objectives are to strengthen the links between the School of Real Estate & Planning at the University of Reading and its graduates through the creation and management of an active and engaged alumni association; to help support and develop the quality of real estate education at the University of Reading; and to help maintain its position and raise awareness worldwide as a centre of excellence for real estate education and research.
Funds have been allocated by RREF for the following purposes:
Provision of bursaries and hardship grants to students
Annual real estate careers fair and a series of evening lectures
Professional mentoring programme for students
Allocation of grants to recognise teaching and research excellence
Employability and outreach projects