University of Reading appoints Permanent Secretary for Education
as new Vice-Chancellor

Release Date 17 October 2011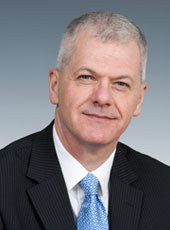 The University of Reading is delighted to announce that Sir David Bell has been appointed as its new Vice-Chancellor. Sir David will join the University from the Department for Education, where he is Permanent Secretary.
Sir David brings a wealth of achievement and experience to the University, acquired during an impressive 30 year career in the education sector. He was appointed Permanent Secretary in 2006, having previously served as Her Majesty's Chief Inspector of Schools.
As the most senior education civil servant in the country, Sir David has served four Secretaries of State and three Prime Ministers. Under the current Secretary of State, Rt Hon Michael Gove MP, Sir David has helped to implement one of the most substantial education reform programmes in recent times, building on his successful leadership of the Department during the years of the Labour government.
Sir David began his career as a primary teacher in his home city of Glasgow. He later became a headteacher in Essex, Director of Education in the City of Newcastle upon Tyne and Chief Executive of Bedfordshire County Council. Sir David also spent a year as a Harkness Fellow in Atlanta, Georgia.
Sir David said: "I am joining one of our country's leading universities at a time of great change for higher education, a time in which our universities have a hugely important role to play; educating our most talented people regardless of means and background, pursuing research that addresses some of our most pressing problems and helping drive economic growth.
"The University of Reading has a tremendous reputation both nationally and internationally for its ground-breaking and world-renowned research, outstanding teaching, high quality student experience and extensive business engagement. Crucially too, it is known for its friendly and welcoming atmosphere, a place where staff and students alike can thrive.
"I was also attracted to Reading because it is an ambitious institution, playing an increasingly influential role in addressing many of the major issues of global concern, such as the prevention of heart disease, tackling the impacts of climate change and understanding the importance of food security. I look forward to helping the University expand its national and international profile and build on the substantive successes of recent years."
Mr. Christopher Fisher, President of the Council of the University of Reading, said:
"I am delighted that an individual of David Bell's stature and reputation has agreed to become the next Vice-Chancellor of the University. Not only does he bring the rich experience of an exceptional career, but also outstanding leadership qualities and a passion for education at all levels. Under Sir David's leadership the University will build on the strong platform created in recent years to increase its appeal to high quality undergraduate and postgraduate students; to extend and deepen its research excellence in key areas of relevance and comparative advantage; and to reach out regionally, nationally and internationally to be, and be seen to be, a world class educational institution, playing a leading role in the areas of public policy choice and of business, cultural and social engagement."
Sir David will take up his position in January 2012. Professor Tony Downes will continue as Acting Vice-Chancellor until that time.
ENDS
Further information from Alex Brannen, Director of Communications, University of Reading, on 0118 378 8005
Notes to editors:
A photograph of Sir David is available from the University of Reading press office on 0118 378 7388/7115
Biography of Sir David Bell
Sir David Bell was born in Glasgow in March 1959. He studied history and philosophy at Glasgow University and obtained his PGCE from Jordanhill College of Education. He also has a Master of Education degree in management and administration from Glasgow University. He began his career in teaching and held a number of posts before becoming Assistant Director of Education at Newcastle City Council in 1990 and subsequently Director. During this time he spent a year as a Harkness Fellow at Georgia State University, Atlanta, studying education and local government reform across the United States of America.
Sir David trained as an Ofsted team inspector in 1993 and became a Registered Inspector the following year. He became Chief Executive of Bedfordshire County Council in 2000. Sir David took up the post as Her Majesty's Chief Inspector of Schools in England in 2002 and was appointed Permanent Secretary to the Department for Education and Skills, now Department for Education, in 2006. He was knighted in the Queen's Birthday Honours 2011.
Sir David is married with two adult daughters. His hobbies include reading, particularly anything to do with American politics, keeping fit and, occasionally, Scottish country dancing. He was also a season ticket holder at Rushden and Diamonds Football Club before it went into liquidation in 2011. He hopes therefore that his arrival in Reading might provide him with a new footballing passion.
University of Reading
The University of Reading was established in 1892 and received its Royal Charter in 1926 The University is one of the select group of research-intensive universities that make up the 1994 Group of high-quality academic institutions and takes pride in a combination of established history and cutting-edge research. The University delivers a world-class student experience, research-led teaching and has an international reputation of the highest quality.
The University is regularly ranked among the top 200 universities in the world (164th - THE World University Rankings 2011).
87% of the University's research was classified as of international standing in the Research Assessment Exercise (RAE) 2008.
The University has invested almost 400 million in its campuses in the last eight years and has some of the best teaching, research and student accommodation facilities in the country.
The latest graduate destinations survey (2010) resulted in the University's best outcome for a decade with graduate employability.
The University is consistently in the top quartile for the quality of the student experience (89% student satisfaction rating in National Student Survey 2011)
In 2008 Henley Management College became part of the University to form the Henley Business School at the University of Reading, now offering world class teaching and research in management, finance and property.