University organ celebrates centenary with special public concert
Release Date 17 October 2011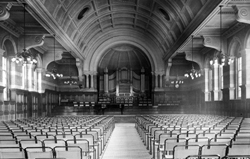 The University is celebrating the hundredth anniversary of its Great Hall pipe organ with a special recital on Friday 21 October, which marks 100 years to the day since its first performance was given in 1911.
One of the UK's foremost organists, Tim Byram-Wigfield who is Director of Music at St George's Chapel Windsor Castle, will be performing an array of pieces from Bach to Copland, including some that were played in the very first programme 100 years ago.
Most students have sat exams in front of it, and most will also have graduated to the sound of it; a privileged few have also played it, but this celebratory concert provides a rare opportunity for members of the public to hear the sounds of the majestic organ, which sits in the stage apse of the University's Great Hall on London Road.
Christopher Cipkin, who plays the University Great Hall organ for the majority of degree congregations, said: "The history of the organ is closely linked to the wider history of the University, especially the London Road campus, so we are delighted to be able to mark its hundredth birthday with this concert. We hope the local community will join the celebrations and enjoy listening to the beautiful performance on this special occasion.
"Interestingly, the organ's bespoke case, which is still in situ today, was made from a cedar tree which had formerly stood on the site of the Great Hall."
The origins of the instrument can be traced back to the relocation of the University College from Valpy Street to the London Road campus. Shortly after the foundation stone of the Great Hall was laid in 1905, a committee was convened to begin the fundraising campaign for an organ. A prolific Leeds organ building firm, J. J. Binns, quoted the Director of Music at the time, Sir Hugh Allen, £600 for the design and build of a core instrument with room for it to be enlarged as and when funds became available.
Subsequently, money raised by alumni and given by the Friends of the University enabled the organ to be expanded and renovated over the years.
The concert is taking place on Friday 21 October at 7.30pm in the Great Hall, London Road. Tickets cost £10 (£6 concessions) and advanced booking is recommended - music@reading.ac.uk or 0118 378 4313.