Students and local industry reap benefits of work placement scheme
Release Date 18 October 2011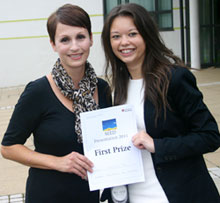 The University of Reading recognised the contribution students have made to the University and local business at an awards ceremony for the summer work placement scheme.
The Summer Enterprise Experience and Discovery (SEED) initiative is run by the Student Employment, Experience and Careers Centre (SEECC). It offers valuable paid work experience for students and provides organisations with welcome additional resources.
Companies, organisations and charities take on students for eight weeks over the summer to work on specific projects. This year 15 students participated and showcased their achievements at the awards ceremony on 12 October.
The winner was 3rd year consumer behavior and marketing student Suzanne Hoy, who worked with the University of Reading's Campus Services, helping them create a marketing plan and developing their brand.
"I would definitely recommend SEED as it's an excellent scheme," said Suzanne Hoy. "I enjoyed my time with Campus Services enormously and the eight weeks has been invaluable. It was great to see a marketing campaign through from beginning to end and apply skills learnt from my course into a read-world situation. Taking part in the scheme has helped prepare for life after University, improving my independent working and critical analysis skills as well as strengthening my CV."
Ola Stannard, Campus Services Administration Manager, believes Suzanne has a very bright future in front of her.
"Suzanne was a joy to work with," said Ola. "She highlighted how we can raise awareness of campus services as a brand through surveys and designing posters. Her excellent recommendations include the more targeted distribution of posters and flyers and embroidering staff uniform, especially amongst cleaning staff, so the team have a real identity on campus. We wish her all the best during her time at Reading and beyond."
The other prize winners were 2nd place graduate Mamadou Kouyate who is going on to do a masters in Management and Business Administration who worked at Chissock Woodcraft in Hare Hatch. In 3rd place was 3rd year Environmental Science student Ruth Harris who also spent her placement with Campus Services.
Angie Duncan, Staffing Specialist at Ipsen Biopharm Limited in Slough who was on the judging panel, said: "All the students presented extremely well, indeed far better than many experienced candidates I've seen. However the judges were unanimous in their decision. Through her slick, perfectly paced engaging delivery, Suzanne's presentation was highly professional and conveyed a real passion for her placement."
This year the University of Reading posted its best graduate employability results for a decade with 92% of its graduates describing themselves as being in work, voluntary or unpaid work or further study. Reading now offers all students the opportunity to do a placement on every course, either as a part of a module, whole module or an entire placement year.
Emma Sowden said: "The University of Reading prides itself on the student experience it offers and is committed to giving students the best possible start to their careers upon graduation. We'd like to thank all the participating organisations this year for supporting SEED. It's a fantastic opportunity for students to apply their academic skills and gain valuable work experience in the local community."
Suzanne received £300 for winning. Mamadou Kouyate was awarded £150 and Ruth Harris £100.
ENDS
For more information please contact Rona Cheeseman , on 0118 378 7388 or email r.cheeseman@reading.ac.uk
Notes for Editors:
The primary emphasis of the Student Employment, Experience and Careers Centre (SEECC) is to work in partnership with employers, alumni and colleagues across the University, to ensure that our students gain the best possible access to 'real world' opportunities to help them build their transferable skills, career confidence and improve their employability. In addition to this, SEECC is also focused on providing these key services:
Support and guidance for students helping to improve their employability and achieve relevant career choices
Ensuring students prepare high quality applications and CVs to access placements and graduate level recruitment
Support in developing placement opportunities and development activities, both in and outside of the curriculum; from helping identify and recruit employers through to the welfare of students while on placements.