University's Classics Department celebrates centenary
Release Date 27 October 2011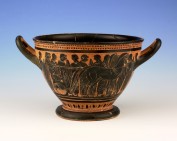 This year Reading's Classics Department celebrates its 100th birthday. Percy Ure was appointed the first Professor of Classics at University College Reading in 1911 - 15 years before the University received its Royal Charter in 1926.
Classics may be one of the oldest and original departments in the University but the Department in its current shape, resting firmly on its well-established tradition, still aspires to the same high standards of academic excellence as it did from its humble origins.
Classics at Reading is unthinkable without the efforts of Percy Ure, after whom the Ure Museum of Greek Archaeology is named. His wife, and former pupil, Annie Ure, remained the Curator of the museum until her death in 1976.
Under the leadership of Percy Ure, Reading's Classics Department became a place of inspiration and academic excellence. An interesting characteristic of the Department in its first decades is its readiness to provide an intellectual home for academics that found it difficult to stay within the firm and traditional boundaries of their discipline elsewhere such as Greek scholar E. R. Dodds and Art Historian Jocelyn Toynbee.
Professor Kruschwitz, Head of Classics, said: "Looking back on one hundred years of history of excellence in Classics research and teaching at Reading, it makes me feel very proud to be part of this remarkable department. Reading always has been a place at which it was possible to pursue visionary, groundbreaking research, pushing the boundaries of a traditional discipline.
"My colleagues and I are driven by the desire to drive the research agenda of our discipline even further. One hundred years after its formal establishment, the Department of Classics is a beautifully diverse, vibrant, and creative community of academics and students, driven by their shared passion for the ancient world, its rich cultural and linguistic heritage, and its reception."
Visit the Department of Classics website >>>
ENDS
For more information please contact Rona Cheeseman on 0118 378 7388 or email r.cheeseman@reading.ac.uk