World experts examine children's experiences of war
Release Date 01 September 2011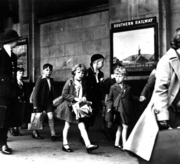 The experiences of children caught up in wars and war zones are the focus of an international event next week organised by the University of Reading
Speakers from around the world will be discussing the 'lost childhoods of war' at the 4th War Child Conference from 7-9 September, which aims to raise the awareness of the importance of war child studies.
Many of the visiting lecturers are ex-war children themselves. Subjects examined will include the stigmatism felt by children of collaborators and Nazi soldiers in Norway; the experiences of Jewish children brought to England on kindertransport in 1939; and the impact of the Palestinian/Israeli conflict on children.
Dr Martin Parsons, Director of the University's Research Centre for Evacuees and War Child Studies, said: "The University of Reading is a world leader in the research on war-child studies, aiming to inform present and future governments on the treatment and welfare of children in war zones.
"Many of our visitors have lived through wars themselves, both in the UK and around the world, including Estonia, Finland, Austria and Palestine. Some suffered the trauma of evacuation as a child, and, from previous experience, the latter find attending these conferences to be a cathartic experience."
'Lost childhoods of war' is being held in the University's Palmer Building. For further information please contact either Dr Martin Parsons at m.l.parsons@reading.ac.uk or Jennifer Allison at j.allison@reading.ac.uk.
ENDS
For media enquiries please contact Rona Cheeseman in the press office on 0118 378 7388 or email r.cheeseman@reading.ac.uk