University of Reading women's crew crowned queens of Europe!
Release Date 12 September 2011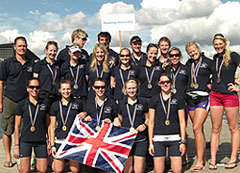 The University of Reading Boat Club (RUBC) has made a triumphant return from the recent European University Sports Association (EUSA) Rowing Championship.
RUBC's lightweight women's quad crew claimed gold and all 17 members competing returned with a medal. This set of results confirmed Reading as one of the leading rowing universities, not just in the UK but throughout Europe.
Held in Moscow this was the seventh EUSA Rowing Championship which sees Europe's best university rowers go head to head. Nearly 400 competitors, representing 50 different universities from 14 countries battled it out during the 4-day event.
The RUBC crews raced superbly all week reaching the final day in fine form. The lightweight women's quad faced stiff competition in the form of a Polish team that contained some of last year's winning EUSA crew. After a great start they steadily pulled out a lead and by 500m were a length ahead. They confidently sculled on with perfect timing to add the title of European University Champions to the British title they won in May.
The RUBC men's quad collected a hard-earned bronze medal while the women's 8 final contained three crews from Britain; Reading, Cambridge and Bristol. RUBC proved to be the fastest British crew winning a silver medal, beating 4th place Cambridge by over ten seconds.
The final event for the RUBC crews came in the women's pair. Ally Brooks and Caragh McMurtry, who were part of the 8 crew, headed to the start just moments after collecting their silver medals. After a gutsy performance the pair earned a bronze medal, a fantastic effort.
RUBC Director of Rowing Will Rand said: "I'd like to congratulate all our crews who took part in this prestigious event. The results prove that the University of Reading continues to produce rowers of the highest calibre that can compete with the best in the world.
"I would also like to thank the University for its unwavering support. This trip was only possible because of the generous grant awarded by the annual fund. The students enjoyed an amazing experience which would have benefitted them enormously in many different ways."
For more information about RUBC, contact Will Rand, the Director of Rowing at the University of Reading on 07989 972 594 or email w.rand@reading.ac.uk
Ends
For all media enquiries contact James Barr, University of Reading Press officer, 0118 378 7115, j.w.barr@reading.ac.uk
The University of Reading's Annual Fund supports a wide range of academic and extra-curricular projects across campus, and provides essential financial support for students who would otherwise not be able to consider a University education.