New research network to examine links between youth culture and political change
Release Date 14 September 2011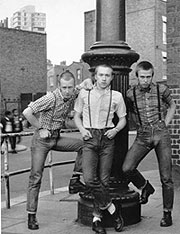 The recent riots shocked the nation and left many questioning the 'youth' of today. Many reasons were given as to why these events occurred, with several commentators suggesting links to the cultural interests and values of the young people involved.
This week a symposium in London marks the launch of a new research network, led by the University of Reading, which will examine the links between youth cultures and aspects of social, political and cultural political change.
Style-based subcultures, scenes and tribes, along with their music genres, have pulsated across the post-war period. From 1940s zoot-suiters and '50 Teds, through 1960s beats, hippies, skinheads and bikers, to the punks of the 1970s and the hip-hop and rave styles of the 1980s, 90s, noughties and beyond, these distinctive blends of fashion and music have become a defining feature of the cultural landscape.
Dr Matthew Worley from the University of Reading's Department of History established the network. He said: "To understand the recent riots we need to examine the cultural expression of those involved. We need to ask why looting defined the riots? To explore what the riots meant to those involved as well as to those affected.
"Key to the network, and with due reference to the pioneering work of Stuart Hall, Dick Hebdige and others who forged the Centre for Contemporary Cultural Study in the 1960s and 70s, is the idea of youth culture and popular music as 'sites' of political engagement and expression. Most obviously, perhaps, punk appeared as a reaction to the political malaise of the 1970s, but all subcultural styles and music retain within them signifiers and values reflective of their time and context. If young people appear to be evermore alienated from the mainstream political process, from party politics and voting, then we ask where are their disaffections and desires expressed?"
The two-day symposium, held at London Metropolitan University over 15/16 September, aims to bring together recent studies, insights and approaches to this interdisciplinary field. Featuring contributions both from major scholars and eminent commentators, the event will consider global experiences giving reference to issues such as class, ethnicity, gender, sexuality and commerce.
For more information about the Interdisciplinary Network for the Study of Subcultures, Popular Music and Social Change and this week's symposium visit http://www.reading.ac.uk/history/research/hist-subcultures.aspx
Ends
For all media enquiries contact James Barr, University of Reading Press Officer, 0118 378 7115, j.w.barr@reading.ac.uk