New eco-bus named after former Vice-Chancellor
Release Date 20 September 2011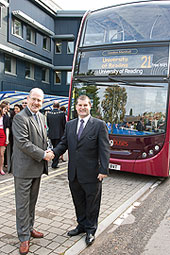 One of Reading Buses' new eco vehicles is to be named after the previous University of Reading Vice-Chancellor, Professor Gordon Marshall.
Professor Marshall, who left the University this summer, was a regular bus user during his nine years at Reading. He was hugely influential in the implementation of the University's Carbon Management Programme launched last year, which is identifying ways in which the University can reduce its carbon footprint by 35% by 2015/2016.
The naming of the bus coincides with the announcement of more regular and greener bus routes running through the University.
Thanks to Reading Buses, travellers on routes 20, 20a and 21 are already enjoying brand new electric hybrid double decker buses, but there will now be a service from Central Reading to the University of Reading's Whiteknights Campus every seven to eight minutes.
Acting Vice-Chancellor Professor Tony Downes said: "The naming of the bus is a fitting tribute to Gordon as he was a regular bus user and staunch supporter of the University's efforts to go even greener. As leaders in climate science research we are delighted to see Reading Buses' new eco-friendly vehicles on the road and welcome the new improved service which will benefit staff, students and the local community.
"We are proud of our award-winning 'green' Whiteknights Campus and initiatives that mean we now recycle over 40% of our waste but continue to work hard to reach our aim of reducing our carbon footprint by 35%."
The 20, 20a and 21 claret-coloured buses will bring a new travel experience for students, staff and other customers along the route between Central Reading and Whiteknights Campus and onwards to Lower Earley.
Features of the electric hybrid buses include:
Low carbon emissions
Smoother, cleaner and greener travel
Wi-fi
Improved voice announcements through new software
Reading Buses has also introduced a special £99 fare for students and staff offering unlimited term- time travel, or £297 for the academic year.
The University's new look all-British hybrid buses were launched today, Monday 19 September, by Acting Vice-Chancellor Professor Tony Downes.
Nikki Honer, Reading Transport's Communications Manager, said: "We have worked very closely with the University of Reading with whom we have a strong relationship.
"Together, we have created some powerful commercial messages which strongly promote the electric hybrid power, its smooth ride and cleaner mode of travel.
"The message to students and staff of the University of Reading is that they can make a personal contribution by travelling on the cleaner, greener claret hybrid buses."
The new increased frequency begins on Monday 26 September ready for the start of the new university year.
Ends
For all media enquiries contact James Barr, University of Reading Press Officer, 0118 378 7115, j.w.barr@reading.ac.uk