University campus voted as one of best green spaces in the UK
Release Date 22 September 2011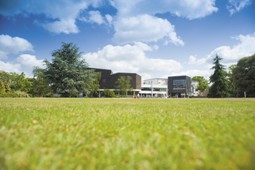 The University of Reading's Whiteknights campus has been voted one of the best green spaces in the country following a nationwide public poll.
The University has been ranked number 4 out of more than 1,000 public spaces eligible to be voted as the People's Choice Award as part of the Green Flag scheme. The Whiteknights campus was also the most highly rated university.
All Green Flag Award-winning parks and green spaces were entered into the annual poll. The public were asked to vote for their favourite. Reading received its first Green Flag Award in July for its well-maintained and well-managed campus.
Judges were impressed by the 134-hectare site which contains wooded areas, open meadows, a lake, shrubs and borders and county standard sports pitches. A network of paths links these different and exciting areas, making it an accessible and enjoyable place for all to take pleasure in.
Acting Vice-Chancellor Professor Tony Downes said: "We are delighted that our community voted us one of their favourite green spaces. We take great pride in our campus which is one of the most beautiful university settings in the UK. This award is testament to the hard work and expertise of our committed grounds and facilities maintenance teams."
This year 1,290 parks and green spaces were eligible for the People's Choice Award and more than 13,000 votes were received in total.
Paul Todd, Green Flag Award Scheme manager, said: "Congratulations to the University of Reading's Whiteknights campus for being one of the UK's favourite parks. Quality parks and green spaces play a vital role within local communities."
The Green Flag Award scheme is the benchmark national standard for parks and green spaces in the UK. Grounds management, innovation and the way facilities are tailored to the needs of the community are taken into account.
ENDS
For more information please contact Rona Cheeseman in the press office on 0118 378 7388 or email r.cheeseman@reading.ac.uk