University urges youngsters to tell tales
Release Date 28 September 2011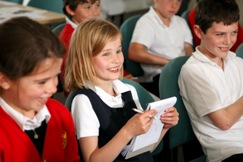 Children are not normally encouraged to tell tales but it was a definite plus for youngsters at a University of Reading creative workshop held as part of a celebration of arts and humanities research.
Researchers' Night last Friday is held every year at universities and institutions across Europe, showcasing areas of research and how it impacts on people's lives.
There was a wide range of free events for the public, in collaboration with the University's Museum of English Rural Life, Reading Museum and Reading Abbey. One of the special events included a workshop, entitled Telling Tales, by English lecturer Dr Neil Cocks who encouraged youngsters to write about what it means to be a child.
There were also exhibitions, workshops, seminars, talks, tours, demonstrations and film screenings on offer. The event culminated in a public forum debate in which panellists discussed the value of maintaining a multiplicity of languages.
ENDS
For more information please contact Rona Cheeseman in the press office on 0118 378 7388 or email r.cheeseman@reading.ac.uk.