Reading business benefits from University placement scheme
Release Date 02 April 2012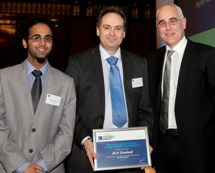 A recruitment software company based in Reading has improved its business and won a national award thanks to a University of Reading work placement scheme.
2LS received the prize for its internship scheme from the National Council for Work Experience (NCWE) in recognition of its outstanding placement opportunities.
The business has worked with the University for the last three years, through the Summer Enterprise Experience and Discovery (SEED) scheme which offers valuable paid work experience for students and provides organisations with welcome additional resources. It is run by the University's Student Employment, Experience and Careers Service.
2LS won the Highly Commended Award in the Best Micro Enterprise category. This year its student, Akshay Koregaonkar, who is in his final year in the School of Systems Engineering, developed a mobile version of 2LS's GRIP recruitment software. The mobile application has now been launched and is in use by a number of recruitment firms.
Neil Thompson, Managing Director at 2LS, said working with the University on its SEED scheme allowed them to take on projects that they might not otherwise do.
"SEED is good in so many ways," he said. "You get fresh blood into the business which brings with it new ideas and ways of thinking and we can run pilot projects without interrupting the main business.
"In this particular case we wanted to design and build a mobile application for our existing software. We didn't have the capacity to investigate what was required but taking on Akshay allowed us to do so in a low risk way and was a tremendous success. In the time he was with us he was actually able to complete a working system which we are able to sell and gives the business a new revenue stream."
For Akshay his time at 2LS has been invaluable: "It was amazing. The work was challenging and I felt I learnt a lot from the project. The work environment was very friendly and I had constant support from the managing director himself throughout the project. The work I did was greatly appreciated by the company and I developed really strong relations with them. I worked with them again in the winter holidays where I created another mobile app for them."
If your company or business could benefit from a Reading student placement, visit http://www.reading.ac.uk/seecc/placements/seed/companyinfo.asp
Student interns are paid £250 per week, funded by the employer, and internships should ideally be for eight weeks, but could be anything from six to 13 weeks in length.
Ends
For more information please contact Rona Cheeseman in the communications office on 0118 378 7388 or email r.cheeseman@reading.ac.uk