University supporters thanked for transforming lives
Release Date 03 April 2012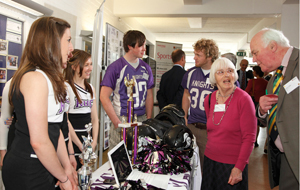 View photos from Donor Day on Flickr >>>
The University of Reading held its sixth Annual Donor Day recently, to thank those who generously donate to the University.
This year's hugely successful Donor Day for supporters of the University of Reading provided an opportunity for current students and staff to say a personal thank you to those who have helped to raise over £30 million to enhance the student experience and support cutting edge research at the University.
The event, sponsored by Haslams Chartered Surveyors, brought together over 200 alumni donors from across the decades, corporate sponsors, friends, staff and current students, who all joined to celebrate the positive difference that philanthropy makes across the University.
Guests learned how donors are crucial to ensure Reading provides the best possible facilities and opportunities, and contributes to the rich experience that students enjoy.
A mixture of presentations and interactive exhibitions from students, staff and the University's research partners gave donors an insight into the pioneering work that has been made possible thanks to their financial support. They also found out about the ways in which donations help the University to maintain its world-class reputation for teaching, research and enterprise.
Individual bursary recipients and members of the Students' Union were also in attendance to meet and thank donors for transforming their University experience.
Academics and students from the Department of Classics - which has just celebrated its centenary year - showcased an interactive display for guests, with two innovative projects that have been funded by philanthropy: a high-tech 3D scanner which allows for detailed analysis of Greek and Egyptian artefacts, and a virtual model of Ancient Rome which is being developed by lecturer Dr Matthew Nicholls to widen students' understanding of the ancient city.
Victoria Wicks was one of the student bursary recipients who attended Donor Day to meet and thank those who have made her education at the University of Reading possible. Victoria received an Alumni Bursary to enable her to study for a BA in Business and Management at the Henley Business School.
Speaking in her presentation to guests she said: "I am incredibly grateful for the support I have received; without it I may not have been able to continue my education at this level. I have been in very good hands through visiting, applying and studying at the University of Reading, and I am having the time of my life. All I can say is thank you."
Ends
To find out more about Donor Day, or for further information on making a donation to the University, please contact the Development and Alumni Relations Office: annualfund@reading.ac.uk or +44 (0) 118 378 8006.