Professor appointed to key research council position
Release Date 13 April 2012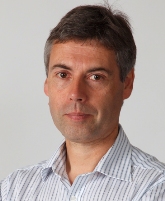 One of the University of Reading's leading agriculture experts has been appointed to the Council of the Biotechnology and Biological Sciences Research Council (BBSRC) by the Minister for Universities and Science David Willetts.
Tim Wheeler is Professor of Crop Science at the University and Deputy Chief Scientific Adviser at the UK Department for International Development (DFID) where he has been a key figure in developing research collaboration between the BBSRC and DFID.
The BBSRC Council is the senior decision-making body responsible for determining policy, priorities and strategy.
Professor Wheeler has published extensively on how climate change could impact on the sustainability of agriculture and food and has provided advice on the sustainability of food and farming to agri-businesses and food multi-nationals. He has provided information and advice to UK Ministers, acting as Specialist Adviser to the House of Lords in 2010.
Professor Wheeler said: "I really welcome this opportunity to contribute to the exciting science priorities of BBSRC and look forward to working with BBSRC and members of Council".
Ends
For more information please contact Rona Cheeseman, research communications manager, on 0118 378 7388 or email r.cheeseman@reading.ac.uk
Notes to editors
The Crops and Climate Group of the Walker Institute for Climate System Research undertakes research on the interactions between crops and climate. It uses numerical models and experiments to study the impact of climate variability and change on crops, and the feedback from cultivated areas to the atmosphere. The Crops and Climate Group is an interdisciplinary team of staff and researchers in the Department of Meteorology and Department of Agriculture and NCAS Climate.
The BBSRC invests in world-class bioscience research and training on behalf of the UK public. Its aim is to further scientific knowledge, to promote economic growth, wealth and job creation and to improve quality of life in the UK and beyond.