Public Lecture: Olympics modern and ancient
Release Date 30 April 2012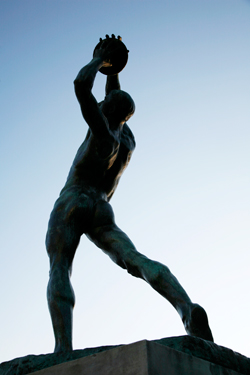 How have the Olympics developed? Do the modern Games bear any resemblance to their ancient forerunners? With less than 100 days to go until London 2012, the University of Reading is taking a step back in time to explore the history of the Games in its latest public lecture.
On Wednesday 2 May, Professor Barbara Goff from the University's Department of Classics, will examine the connections between the modern and the ancient Olympic Games and highlight how the Games have developed over the years.
Professor Goff said: "Every four years a global event unfolds which is unparalleled for its advertising revenue, its political significance, and the accompanying media excitement. Some claim it makes sporting history; some even claim it descends from an ancient Greek festival. In my lecture we will look back at the ancient games, and question what Baron Pierre de Coubertin was thinking when he revived the Olympics in the late 1800s."
Professor Goff's lecture is the last in the 2011/2012 series. All the talks in the series are given by researchers eminent in their field and in a manner that is easily understood by all. They offer a unique opportunity to learn about the cutting-edge research, teaching and people that make the University a world-class institute.
The lecture is taking place as part of Universities Week 2012. The week aims to highlight how universities benefit everyone, whether or not they have gone to university themselves, and this year's campaign will look at the way UK universities contribute to the Olympic movement, the sports industry and society as a whole.
Find out more about Universities Week at the University of Reading >>>
University Public Lectures are held in the Palmer Building on the University's Whiteknights campus. Lectures are free to attend and no ticket is required. Please visit the Public Lecture Series website for more details or contact the Events team on 0118 378 4313 or email events@reading.ac.uk.
ENDS
For University of Reading media enquiries please contact Becki Rassell, Communications Officer - 0118 378 8408 or b.rassell@reading.ac.uk
Follow us on Twitter | Like us on Facebook | Read our research blog 'The Forum'