Reading graduates maintain strong showing in job market
Release Date 18 April 2012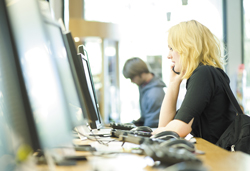 Following on from last year's reporting of the University of Reading's best graduate employability results for a decade, data on the destinations of the University's latest graduates show a similarly strong performance.
In 2012, 92% of University of Reading graduates available or looking for work/study are either in employment, in further study or taking up voluntary or unpaid work opportunities. The University of Reading has also maintained its 2011 graduate employability level of almost 70%¹.
The Destination of Leavers Survey 2012² (DLHE) asked graduates from 2011 what they were doing six months after graduation. The latest survey of the University of Reading's 2011 graduates shows they remain highly valued by employers and that a significant number also go on to postgraduate study³. Unemployment rates for Reading graduates remain at 7%. The 2011 and 2012 results are the University's strongest results since the establishment of DLHE data in 2002/3.
Professor Gavin Brooks, Pro-Vice-Chancellor for Teaching and Learning, said: "We are delighted that our graduates remain highly employable, despite a difficult economic climate, and that a significant proportion are obtaining graduate positions. With the establishment of our Student Employment, Experience and Careers Centre (SEECC), we are providing the skills training, support, opportunities and experiences to ensure Reading students of the future maintain this strong record and are as well prepared as possible to pursue their goals and dreams."
Work experience is cited by employers as one of the most important factors in the recruitment of graduates. The University of Reading provides opportunities for students of all disciplines to take a placement as part of their course. Placements vary in length from two weeks to one year depending on the course of study and are worth a set amount of credits towards their degree.
Through the work placement scheme, the University RED Award scheme, or one of many other opportunities, Reading students are supported to make the most of their potential. For the many students who choose to go on to further study after graduating, the University also provides excellent support.
Find out more about how we help our students to increase their employability >>>
Ends
Further information from the University of Reading Press Office on 0118 378 8005
Notes to editors:
¹This refers to the percentage of Reading graduates who reported they were in graduate level work and/or study and is the measure referred to as the Graduate Prospects Score as featured in the Times Good University Guide.
² The employability results for the higher education sector will be published by HESA (Higher Education Statistics Agency) in the summer.
³ The Destination of Leavers Survey 2012² (DLHE) - main findings for University of Reading graduates
70% are in graduate jobs or further study
92% (of those available or looking) are in employment, further study or voluntary
15% are in further study
80% of Reading graduates replied to the survey.
Follow us on Twitter | Like us on Facebook | Read our research blog 'The Forum'