University delights in Reading Football Club's promotion to the Premier League
Release Date 18 April 2012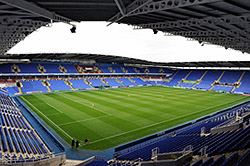 The University of Reading is celebrating the fantastic news that its hometown football club won promotion to the Barclays Premier League this week.
A 1-0 home victory against Nottingham Forest, played at Reading Football Club's magnificent Madejski Stadium near to the University's Whiteknights Campus, means the club will battle it out against the likes of Liverpool, Chelsea and Manchester United next season.
Sir David Bell, Vice-Chancellor of the University of Reading, said:
"I'd like to congratulate everyone associated with Reading Football Club on this magnificent achievement. The team's form this year has been sensational and promotion is fully deserved. As a massive football fan I am particular pleased about my new local team doing so well.
"The Premiership is one of the world's most exciting and watched football leagues so the town's international profile will receive a massive boost. The people of Reading can take great pride in having a Premier League football club as well as a premier league university. I look forward to watching Reading compete against the best football clubs in the country and wish the club all the best for next season."
This is the second time Reading FC has won promotion to the Premier League. In 2006 'The Royals' clinched the Championship title and then performed brilliantly to finish eighth in their first Premiership season, before being relegated in 2008. Established in 1871, the club is one of the oldest teams in England.
Here's what the national papers are saying about Reading Football Club's promotion to the Premier League.