University fundraisers shortlisted for national award
Release Date 20 April 2012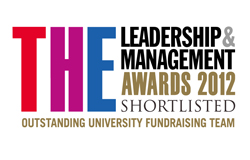 The University of Reading's fundraising team has been shortlisted for a prestigious award recognising their work to raise funds to help the University's students.
The University's Development and Alumni Relations Office (DARO) has been nominated in the Times Higher Education Awards 2012 for its Annual Giving programme, which has attracted more than 6,000 donors and raised more than £3 million to improve the lives of the university's students since it began in 2004.
The team entered the 'Outstanding University Fundraising Team' category, which recognises the exceptional work of professional staff in the higher education fundraising sector.
DARO's submission for the awards highlighted the incredible growth achieved by the Annual Fund in attracting an increasing number of donors through mailings, telephone campaigns, social media platforms and other activities to deliver a highly successful fundraising programme.
The Annual Fund raises money to improve the experience of students, by funding projects that boost students' academic and extra-curricular opportunities, such as enabling the University's American Football team to purchase new helmets and equipment, and funding a 'Sports Ambassadors' project that sees current students giving free sports coaching to children in local schools. It also provides essential bursaries and hardship grants to students who would otherwise not be able to consider or continue with a university education.
Andy Wood, Director of Development and Alumni Relations at the University, said: "This is fantastic news for the University. I am particularly pleased that our Annual Giving programme has been recognised in this way, as the whole process is very much a team effort from DARO and many other parts of the University. My thanks and congratulation must go to everyone involved, especially our incredibly generous donors."
The shortlist was formally announced in the 19 April edition of the Times Higher Education magazine. The winner will be revealed at an awards ceremony in London on Thursday 21 June 2012.
ENDS
For University of Reading media enquiries please contact Becki Rassell, Communications Officer - 0118 378 8408 or b.rassell@reading.ac.uk
Follow us on Twitter | Like us on Facebook | Read our research blog 'The Forum'
Notes to editors:
Established in 2004, the Development and Alumni Relations Office (DARO) has enjoyed great success in engaging former students, staff, current students, charities and businesses, and has recently passed the £30 million mark for funds raised since 2004, through the Annual Giving initiative, major donations and corporate sponsors.
The Times Higher Education Leadership and Management Awards 2012 are a highlight of the academic calendar and a celebration of the best of the sector. They are designed to showcase the extraordinary innovation, teamwork and commercial acumen of UK higher education institutions.