Scientists turn the spotlight on Reading's insect life
Release Date 20 April 2012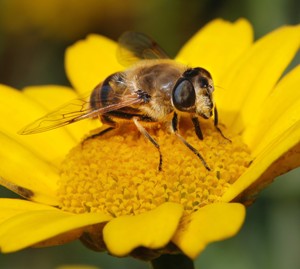 Parks, gardens, allotments, cemeteries and other natural and man-made habitats across Reading will be studied by scientists from the University of Reading this spring as part of the next phase of a three year, £1.3 million research project examining how bees, flies and other pollinating insects are affected by urbanisation.
Over the next few months, teams of ecologists will be sampling plants, pollinators and their interactions in gardens across four UK urban areas - Reading, Bristol, Edinburgh and Leeds. They will also be creating large flower meadows in 15 sites in public parks and school grounds in each urban area. These flower-rich meadows will provide pollen and nectar for pollinating insects and act as 'wildlife corridors', allowing insects and other invertebrates to thrive.
Urban areas now comprise nine per cent of land in the UK so it is important to know how pollinators are affected by city life. This fieldwork will provide exact data on where pollinators can be found in the UK and shed light on the complex network of interactions between plants and their pollinators. The information collected will ultimately help local authorities to bring about more effective conservation management of these important insects.
Professor Simon Potts, Professor of Biodiversity and Ecosystem Services at the University of Reading, said: "The parks, gardens and green spaces of Reading would be far less colourful without the bees, beetles and butterflies which pollinate our flowers, and gardeners would be without some of their favourite fruits and vegetables without pollinators playing their part.
"This research will help to suggest the most effective conservation methods and ensure a better future for these fascinating and hard-working insects we so often take for granted."
The research is funded jointly by a grant from the BBSRC (Biotechnology and Biological Sciences Research Council), Defra, NERC (Natural Environment Research Council), the Scottish Government and Wellcome Trust under the Insect Pollinators Initiative.
ENDS
For more details, please contact Pete Castle at the University of Reading on 0118 378 7391 or p.castle@reading.ac.uk.
Notes to editors:
The project, Urban pollinators: their ecology and conservation, runs until July 2014. Further information can be found on the project website and on the BBSRC's website .
The project is a collaborative study between the University of Bristol, University of Edinburgh, University of Leeds and University of Reading.