Reading's strong showing in latest league table
Release Date 24 April 2012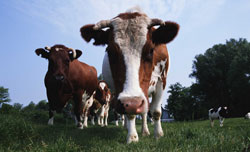 The University of Reading has maintained its strong performance in the latest independent UK university league table, with seven subject areas appearing among the top 10 nationally in their respective areas.
The Complete University Guide 2013, published online today (24 April 2012), reflects Reading's consistent strength, moving up two positions to 32 overall out of the UK's 116 universities.
In addition the new guide places Reading as the best university in the country in the Agriculture and Forestry subject category, out of 17 institutions. In total, seven of Reading's individual subject areas are ranked among the top 10 in the UK in their respective areas - including six that were ranked in the top five.
All seven subject areas - agriculture, town and country planning, land and property management, building, art and design, food science and archaeology - have moved up or stayed in the same position in each of their respective league tables.
Reading's School of Agriculture, Policy and Development has consistently featured strongly in the table, featuring among the top three every year for the past four years. As well as now being ranked as best in the UK for agriculture by the Complete University Guide, Reading is also ranked number one by the Guardian University Guide, and number two by the Times Good University Guide.
Professor Mike Gooding, Head of Agriculture, said: "We are delighted at the news. Being routinely ranked at the top of league tables reflects our commitment to add value to the experience of our students, and to serve the industries to which they aspire."
ENDS
For more details contact Pete Castle at the University of Reading press office on 0118 378 7391 or p.castle@reading.ac.uk.
Follow us on Twitter | Like us on Facebook | Read our research blog 'The Forum'
Notes to editors:
The Complete University Guide 2013 was published on 24 April 2012. See Reading's full entry >>>