Students rate University of Reading as among best in UK
Release Date 26 April 2012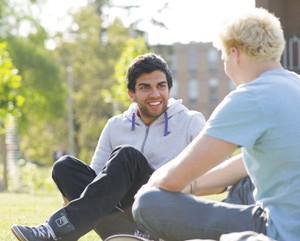 Students have rated the University of Reading as one of the best places to study in the country, according to a new survey.
Reading was placed 12th in the Times Higher Education Student Experience Survey 2012 , published today (26 April), out of 105 UK universities.
The high placing represents a big jump for Reading in the table, up 24 places from 36th in 2011.
The overall rankings reflect the opinions of a panel of students across 21 different categories, such as quality of teaching, social life, and academic and sporting facilities.
Reading performed strongly across the board, with students rating the University's environment on campus in particular as the best in the UK, jointly with Loughborough and Stirling.
The university achieved ratings equal to or above the UK average in 20 out of 21 categories. High ratings for teaching and academic staff, good social and sporting opportunities, excellent accommodation and a strong sense of community all contributed to Reading's high overall ranking.
The success follows the publication earlier this week of a separate university league table, the Complete University Guide 2013, in which Reading moved up two places to 32 out of 116 UK institutions. Seven academic subject areas were classified among the top 10 in their respective areas - including Reading's agriculture courses, which have been hailed as Britain's best.
Sir David Bell, Vice-Chancellor of the University of Reading, said: "These latest results from two independent university league tables reflect our commitment and passion to deliver the best possible experience for our students.
"Our £400m investment programme over the past decade has helped to create outstanding facilities for students in beautiful campus surroundings. I believe this provides the best possible environment for students to make the most of their potential. But it is the quality of the learning experience that ultimately counts and Reading strives to provide a stretching and challenging academic environment, to ensure our students achieve their potential and are well prepared for life beyond university."
Find out more about our campuses >>>
Visit the Times Higher Education Student Experience Survey 2012 website >>>
For more details contact Pete Castle on 0118 378 7391 or p.castle@reading.ac.uk.
Follow us on Twitter | Like us on Facebook | Read our research blog 'The Forum'