Mathematician shortlisted for prestigious lifetime achievement award
Release Date 17 August 2012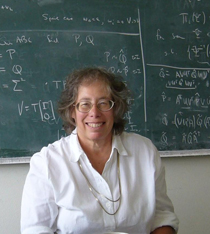 A University of Reading professor has been recognised for her outstanding contribution to mathematics and for her dedication in helping women develop their careers.
Nancy Nichols has been shortlisted for the UK Resource Centre WISE Award for Lifetime Achievement in Science, Technology, Engineering and Mathematics (STEM). The Award pays tribute to women who have made significant achievements in the STEM subjects over their career lifetime and who, through their work, have inspired future generations of women to pursue a STEM career.
Professor Nichols has had a long and distinguished career in mathematics. She was one of the few UK female professors in mathematics when the University of Reading appointed her in 1995. Nancy has developed the careers of an impressive 32 successful PhD students and continues in supervision of five further PhDs, of which 16 have been women.
Nancy has collaborated throughout her career on research across STEM with a wide variety of industries and government agencies, including the Central Electricity Generating Board, British Gas, the Environment Agency and the Met Office. Her current research and leadership role in data assimilation bridges the environmental and the mathematical sciences and has had a significant impact on weather and ocean prediction systems.
Professor Nichols said: "It is an honour for me to be short-listed for this award. It has been a pleasure for me to work with colleagues in many different disciplines and also with a variety of industries. I have been especially pleased to have had the opportunity to demonstrate the strong role women may play in both academic and industrial research and have enjoyed teaching and mentoring many students throughout my career.
"The initiative of the UKRC in publicising the careers of women in science is extremely important and I am grateful and honoured that my colleagues are recognising not only my record in mathematics but also the active support for female colleagues and students that I have been able to provide during my career."
Nancy has held visiting positions at Stanford University, North Carolina State University, Flinders University of South Australia and the US Naval Research Laboratory. In 2001 she was invited to take up the Flora Mather Visiting Professorship for distinguished women at Case-Western Reserve University.
Dr Beatrice Pelloni, Head of the University's Department of Mathematics and Statistics, said: "Nancy is inquisitive, indefatigable, selfless and always ready to go beyond the call of duty. She has been an invaluable mentor and colleague also to the many, many students and junior staff in her large group, and in particular to her women students and colleagues, like me.
"Her work over forty years has spanned several topics, and has always met the utmost standards of rigour and originality, while being delivered with her distinctive charm and humour. She is a precious colleague and a wonderful person and we have been lucky to have her around for so long. The Department is thrilled that Nancy has been nominated for this richly deserved award."
The annual UKRC WISE Awards are in recognition of the achievement of companies and individuals in promoting science, engineering and construction to girls and young women. A high profile annual photographic exhibition, the Women of Outstanding Achievement Awards, is a collection of creative and dramatic portraits that profile outstanding contemporary women within science, engineering and technology.
Veronica Benson from UKRC commented: "Nancy has demonstrated a commitment to advancing knowledge and innovation with potential social and economic impact, and to improving perceptions of women, and supporting their careers, in STEM."
The 2012 WISE Awards in association with Amey, will be held on 29th November 2012 at The Institution of Engineering and Technology, London.
ENDS
For all media enquiries please contact James Barr, University of Reading Press Officer on 0118 378 7115 or by email on j.w.barr@reading.ac.uk
Follow us on Twitter | Like us on Facebook | Read our research blog 'The Forum'
The University of Reading's School of Mathematical and Physical Sciences is working extremely hard to develop and promote women's careers. The School has female staff, including Dr Pelloni, in many key leadership positions and in 2010 was given a Silver Award by Athena Swan, which recognises and celebrates good employment practice for women working in science, engineering and technology (SET) in higher education and research. It also hosts the South-East Hub for the UK Resource Centre for Women in Science, Engineering and Technology.
The UKRC is a leading organisation for the provision of organisational development services for businesses and organisations wanting to build gender equality and diversity in science, engineering, technology and the built environment (SET).
The UKRC's WISE awards are a unique annual event, a special opportunity to recognise inspiring organisations and individuals actively addressing the core concerns of WISE: promoting science, engineering and construction to girls and young women. For more details visit http://www.theukrc.org/wise/wise-awards