Teenager finds computer test easy PC!
Release Date 20 August 2012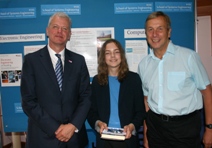 Computer fanatic Chris Chapman has been presented with an award from the University of Reading for correctly judging whether he was talking to a computer or human during a recreation of the famous Turing Test.
The event was held to celebrate the life and influence of the 20th century mathematician and code-breaker Alan Turing. Turing100, organised by Reading's School of Systems Engineering, was based around Turing's famous question and answer game, commonly known as the Turing Test which investigates whether people can detect if they are talking to machines or humans by typing questions and answers on a computer screen.
Fifteen-year-old Chris, from Gloucestshire, was the best children's judge.
"I asked quite a lot of questions about how they were feeling, if they had had a good weekend, and mentioned a current news story about flooding in the north of the country to see if they could handle emotion and different time frames," said Chris. "Opinions and emotions can be difficult for a computer to deal with, although some are very good at talking in a natural way. However, I was able to correctly judge which was which and it was a very interesting day."
Computer charity Raspberry Pi, which encourages interest in computer science amongst young people, presented Chris with its own credit-sized computer, also called Raspberry Pi, which plugs into a TV and a keyboard and can be used for many of the things that a desktop PC does.
Kevin Warwick, professor of cybernetics at the University of Reading and Chair of Turing100, said: "We congratulate Chris for being such a good judge - machines can be a lot better than people think and humans a lot worse! Alongside the fun, the experiments play a serious role in helping raise awareness of cyber crime using artificial conversation systems to increase the detection rate for online deception and prevent the risk of Internet grooming."