Watch short student films to help Reading win first prize
Release Date 22 August 2012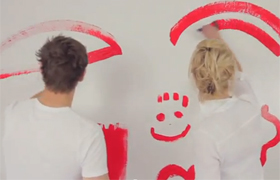 Reading students who took part in a creative marketing competition for a car company are hoping to rev up enough public support to help them win first prize.
The team of students, from a variety of academic backgrounds, produced two videos currently being shown on the YouTube channel of Spanish car maker SEAT - but they need the public to help by watching their videos.
Watch Reading's videos:
The group's work is up against videos produced by three other universities. The video with the most views by October 9 will be declared the winner.
The seven-strong team - Aurelija Stankunaite, Robbie McKane, Charlotte Hobday, Calum Peters, Deborah Reid, Lydia Taylor and James Green - has already impressed judges with their work, which followed a creative brief to help the car maker see itself from a different perspective.
Two of their finished films - the first video featuring a young couple having fun while painting their home and the second video showing a small boy letting his imagination run wild playing with a toy train set - are now featured on SEAT's website and on the car company's YouTube channel.
Dr Lisa Purse, from the University's Department of Film, Theatre and Television, said: "The achievement of the students is testament not just to their energy and creativity but to the skills they have developed during their degrees at the University of Reading.
"The students have already gained tremendously from their experience but it would be great if, with the support of the viewing public, their hard work could be rewarded with first prize in this competition."
Find out more about the project >>>
ENDS
For more information, contact Pete Castle at the University of Reading press office on 0118 378 7391 or p.castle@reading.ac.uk.
Follow us on Twitter | Like us on Facebook | Read our research blog 'The Forum'