Diners willing to pay more for 'happy meals'
Release Date 24 August 2012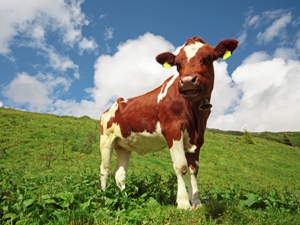 With increasing public awareness of animal welfare, how much more are people willing to pay for the happiness of the animals they eat?
Innovative research at the University of Reading suggests that people are willing to pay more for even a slight improvement in the wellbeing of the animals in their meals - but appear to favour cows and chickens over pigs.
Professor Richard Bennett, an agricultural economist who advises the UK government on animal welfare issues, is leading University of Reading research assessing the extent to which people want to improve the welfare of farm animals.
"We kill more than two million cattle, nine million pigs and almost 800 million chickens a year in the UK to feed our demand for meat," Professor Bennett said.
"With better understanding of animal behaviour, we can accurately measure the welfare of an individual animal in terms of its freedom from hunger, thirst, pain, injury, fear, and its ability to express normal behaviour - in short, what makes animals happy on a 0-100 scale.
"Our research shows that people are overwhelmingly concerned about the welfare of animals bred for meat, and would be willing to pay more each year for even a one-point increase on the happiness scale of the animals they eat."
The research, published in the journal Animal Welfare, suggests that for just a one point increase on the animal welfare scale consumers are willing to pay £5.24, £5.10 and £4.57 a year to improve the welfare of cattle, chickens and pigs respectively.
Professor Bennett added: "We hope that our approach will be able to support future policy decisions on farm animal welfare by explicitly showing the value people attribute to the welfare of farm animals."
ENDS
For more information, or for interviews with Professor Bennett, contact Pete Castle at the University of Reading press office on 0118 378 7391 or p.castle@reading.ac.uk.
Notes to editors
Professor Bennett was interviewed for the ITV Tonight programme, 'The Real Cost of Cheap Food', due to air on ITV1 at 8pm on Friday, 24 August 2012. Programme information >>>
Bennett R, Kehlbacher A and Balcombe K (2012) A method for the economic valuation of animal welfare benefits using a single welfare score. Animal Welfare 21(S1): 125-130. Funding for the research was provided by Defra and ESRC.
The School of Agriculture, Policy and Development at the University of Reading is a world leader in teaching and research in the natural and social sciences relating to agriculture, the food chain, rural environments and the countryside and international development. In the RAE 2008, 45% of its outputs were rated as either world leading or internationally excellent. Reading is ranked number one for courses in Agriculture (Guardian and Complete University Guides) and the top university for impact in Agricultural Sciences research (ISI Web of Knowledge, Essential Science Indicators).